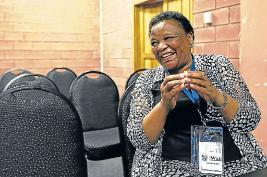 An internationally renowned scientist from Rhodes University has won a prestigious African Union (AU) award for her cutting-edge research in nanotechnology.
The award to Professor Tebello Nyokong, who is involved in cancer research into alternative treatments to chemotherapy, was made at an AU heads of state and government summit in Ethiopia on Saturday night and was widely praised.
Speaking in Addis Ababa after the announcement, President Jacob Zuma promised continued government investment in science and technology.
Nyokong yesterday told the Dispatch the award was special as she got to address African heads of state when she received it.
"I had an opportunity to stress the importance of science to the leaders of the continent. They may not listen to me, but I had to do it," she said.
Nyokong was given the prestigious R1.5-million AU Kwame Nkrumah Scientific Award handed out annually to an African scientist who has distinguished themselves in the fields of science' technology and innovation.
The awards were set up by the AU to acknowledge the importance of science and technology in developing the continent.
Congratulating Nyokong on the award' Zuma said investment in science and technology by African governments would lead to home-grown solutions to many socio-economic and developmental challenges facing the continent.
"The AU acknowledges that Africa's most important resources are her people.
"South Africa will continue to invest in the fields of science and technology' skills development and support innovation."
Nyokong is distinguished professor at Rhodes University and director of the Nanotechnology and Innovation Centre' a national science facility established by the Department of Science and Technology in 2007.
Rhodes University vice-chancellor Dr Sizwe Mabizela yesterday praised Nyokong saying she represented the institution "with great honour and distinction.
"We are delighted with Professor Nyokong being recognised yet again as a truly outstanding scientist. We all burst with pride at the stellar achievements of one of our own".
According to Mabizela, Nyokong's research outputs were "among the highest of any individual on the continent, and her contribution to the scholarly reputation of African scholarship is immense".
"She has been responsible for strides made towards the effective treatment of cancer, through her contributions to photo-dynamic therapy.
"She has also contributed influentially to the fabrication of sensors for various environmentally, biologically and medically important molecules." — davidm@dispatch.co.za additional reporting TMG Digital
By David Macgregor
Picture:Stephanie Lloyd
Source: http://www.dispatchlive.co.za/news/rhodes-professor-wins-au-award-for-research/