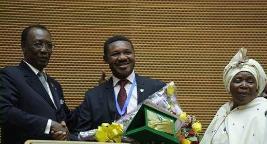 The African Union (AU) has bestowed one of its highest scientific honours upon agricultural engineer and postharvest technology expert Prof Umezuruike Linus Opara of Stellenbosch University in South Africa. He received the AU Kwame Nkrumah Continental Scientific Award for senior researchers at the annual African Union Summit in Ethiopia, which concluded last week. Chemist Prof Nyokong Tebello of Rhodes University in South Africa was honoured in the category for women in science.
Prof Opara, who hails from Nigeria, is holder of the DST-NRF South African Research Chair in Postharvest Technology, and distinguished professor in the Department of Horticultural Science at Stellenbosch University. He has been a SU staff member since 2009 and is a member of the Academy of Science of South Africa (ASSAf).
His multi-disciplinary research team is the leading group worldwide working on postharvest practices that improve the postharvest handling, packaging and marketing of pomegranate fruit. Prof Opara is recognised globally as the leading individual researcher on postharvest technology of pomegranates.
His research group also tests and develops packaging and quality control methods relevant to the handling and storage of fruits and vegetables such as table grapes, citrus and apples. These efforts are focused on alleviating unnecessary food loss and waste in the fruit and vegetable sector. His team also recently investigated the preservation and quality of fish, and the use of cassava flour to make bread with.
"It is an honour to have one's work recognised on such a continent-wide scale, but credit should also go to my research team and industry for supporting my ideas and research interests," says Prof Opara, who graduated in agricultural engineering from the University of Nigeria Nsukka. He holds a PhD from Massey University in New Zealand.
"Scientific research can play a crucial role in enhancing the profitability and sustainability of agribusiness," notes Prof Opara. "This award is particularly special because it also recognises the impact of our research on building human capacity in South Africa and Africa as a whole."
Since joining Stellenbosch University in 2009, Prof Opara has mentored the studies of 18 PhD and 21 MSc students from 15 African countries. In 2015 he also received an IMPRESSA award.
He is the honorary vice president of the International Commission of Agricultural and Biosystems Engineering (CIGR) and honorary chair of the CIGR Section VI: Postharvest Technology and Agro-Processing. He also chairs the International Society for Horticultural Science's Vegetables Section (Roots, Tuber, Edible Bulbs, Brassica & Asparagus) and previously served on the advisory board of international organisations such as the Horticulture Innovation Lab of the Feed the Future Programme in the USA.
Prof Opara is the founding editor-in-chief of the International Journal of Postharvest Technology, and has published over 200 articles in peer-reviewed journals, book chapters and industry journals. He has given over 150 oral presentations at international conferences, including several invited keynotes addresses and served in expert panels related to food security, value addition and agricultural transformation.
More about the African Union Kwame Nkrumah Scientific Awards
The AU awards programme has since 2008 honoured the scientific achievements, valuable discoveries and findings of top African scientists. Previous South African winners include HIV researcher Prof Abdool Karim of the University of KwaZulu-Nata and Prof Mike Wingfield of the University of Pretoria.
For more information, see http://www.au.int/en/sites/default/files/pr_24_-_african_union_kwame_nkrumah_continental_scientific_awards_2015_edition.pdf

Photograph caption
Prof Linus Opara (middle) of Stellenbosch University received the African Union (AU) Kwame Nkrumah Continental Scientific Award at the AU Summit in Ethiopia. With him are the newly elected AU Chairperson, Mr Idriss Deby Itno of the Republic of Chad, and Dr Nkosazana Dhlamini-Zuma, Chair of the AU Commission. Photo: Supplied
Source: http://www.sun.ac.za/english/Lists/news/DispForm.aspx?ID=3437