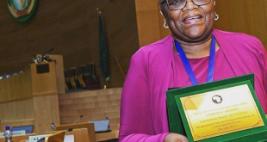 A distinguished Professor of Medicinal Chemistry and Nanotechnology, Professor Tebello Nyokong has been named winner of this year's AU Kwame Nkrumah Scientific Award at the ongoing AU Summit in Addis Ababa, Ethiopia.
Nyokong, a Rhodes University professor, was recently named one of the top 10 most influential women in science and technology in Africa by IT News Africa. She is currently researching photo-dynamic therapy, an alternative cancer treatment method to chemotherapy.
The AU Kwame Nkrumah Scientific Award (AUKNSA) was launched to give out scientific awards to top African scientists for their scientific achievements and valuable discoveries and findings.
The African Union Kwame Nkrumah Scientific Award Programme is organized at three levels:
National;
Regional; and
Continental
The value of the Continental Scientific Award is US$100,000.
Source: http://233livenews.com/?p=32522