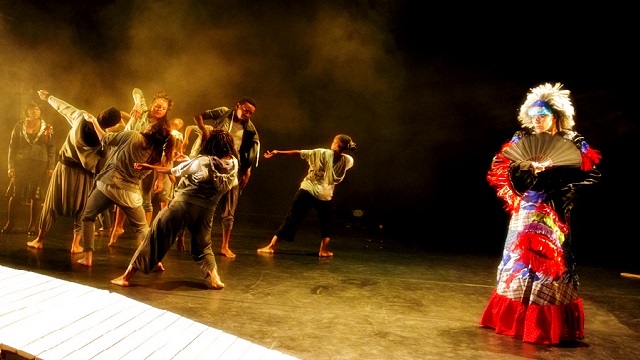 This year Rhodes Drama Department collaborated with First Physical Theatre and guest-choreographer and Rhodes Alumnus, Acty Tang, on a new physical theatre piece, Hunger. Tang travelled from Hong Kong to create this provocative and original work. All three of our FPTC company members performed in the dynamic piece, which included an eclectic mix of rock music, gospel and fantastical fashion design by Illka Louw.Tang brought a fresh challenge to the students of Rhodes Drama and members of First Physical, pushing their physical and expressive limits in the rehearsal room.
The starting point of Hunger was the anger felt during the Marikana strike and continuing with the Nkandla scandal, according to Tang. As two of the most internationally visible news stories to come out of South Africa recently, they led Tang to look at both the corrupt individuals and the wider issues in contemporary South Africa.
"Villains always make good drama," says Tang, "but for me the challenge is to show other forces that can't be blamed on just one individual." Tang says that, through the idea of hunger, he to explored the aspirations and greed that drive people's actions and their relations to each other.
Tang chose to use rock music, and a live singer, Siki Qwazi, who is a student in both the Drama and the Music department. Tang explains that rock taps into anger and rebelliousness, but that live gospel singing can introduce other perspectives to these emotions.
Rhodes Drama's resident designer, Illka Louw, recruited a team of student designers to realise several substantial costume pieces.
Please help us to raise funds so that we can give all our students a chance to access online teaching and learning. Covid-19 has disrupted our students' education. Don't let the digital divide put their future at risk. Visit www.ru.ac.za/rucoronavirusgateway to donate