ILAM PHOTOGRAPHIC CATALOGUING AND PRESERVATION PROJECT
ILAM's Photograph collections being digitized by Africa Media Online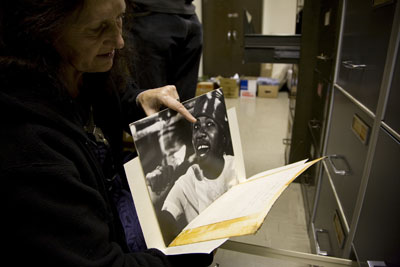 ILAM's Director, Professor Diane Thram examines pictures in the archive.
Africa Media Online's Mobile Digitisation Unit is digitising the ILAM photo collection over the months of October and November, 2007.
The International Library of African Music at Rhodes University in Grahamstown, South Africa, is known as one of the "greatest repositories of African music in the world." Not only does the archive contain field recordings from as early as the 1930s, it also contains up to 8,000 images taken by Hugh Tracey, his son, Professor Emeritus Andrew Tracey and other researchers and photographers.
Africa Media Online's Mobile Digitisation Unit relocated to Grahamstown to begin cataloguing and digitising these images and capturing associated meta-data as part of a preservation project funded by South Africa's National Heritage Council.
In 2006 Africa Media Online assisted ILAM Director, Professor Diane Thram, in creating the funding proposal which led to the awarding of a National Heritage Council grant to catalogue and preserve ILAM's photographic and film collections. As part of the digitisation process, a selection of the most usable images will be made and copies of them retouched and keyworded using the African Archival Thesaurus. They will then be made available to a global audience online on ILAM''s MEMAT powered e-commerce web site.
Africa Media Online's Director, David Larsen, says, "We consider it a great privilege to be working with Professor Thram and her team in what is a vital project in the preservation of African heritage. We are grateful to the National Heritage Council for taking the initiative to preserve such an essential resource for future generations." Prof. Thram says, "I wish to heartily thank the South African National Heritage Council for the enabling funding and Africa Media Online for their dedicated cooperation in planning and now executing the essential work of making ILAM's historic collection of images of sub-Saharan Africa available to the world."
Last Modified: Mon, 13 Aug 2012 12:19:16 SAST