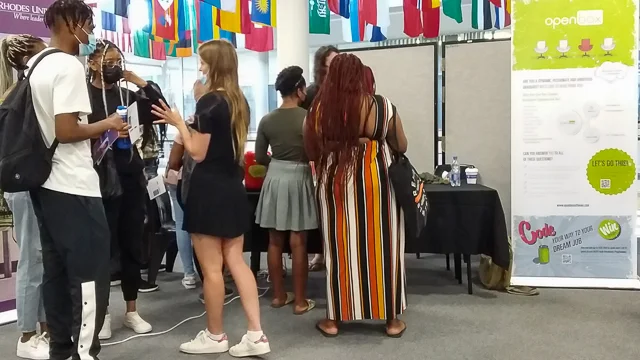 By Tandokazi Silosini
Last month, the Rhodes University Career Centre hosted a Computer Science and Information Systems career fair on campus. A full day was dedicated to student and potential employer interaction. The four companies that exhibited were Deloitte, Open Box Software, KPMG, and Singular Systems.
Following two years of no events on campus, this was the first career fair hosted on campus since 2018. In 2019 and 2020, the University could not host a career fair, and a virtual career fair was hosted in 2021. The Career Centre staff and student assistants were excited and pleased by the turnout of students at the career fair.
Thobani Mesani from the Career Centre said that it was a pleasure to see students come out in numbers, stating that it is a sure sign students have an appetite for these kinds of events.
"This turnout bodes well for our Commerce and General career fairs coming up in the third term," he said.
One of the student assistants, Molly Kamanga, was pleased with the students' engagement at the career fair, stating, "The students are asking questions, getting to know the sponsors, engaging with the different companies… it is amazing to see."
The representatives of the companies were equally enthusiastic in their interactions with the students. Nick Hodgson, an alumnus of Rhodes University and Manager of software company Singular Systems, said he was "super excited to be back" on campus again after a long time. Singular Systems is prioritising universities with in-person career fairs. They believe that there is a lot of value in nurturing good communication and face–to–face interaction with their potential recruits.
According to Hodgson, "We are focusing on universities that offer us a chance to meet with students. We feel this type of interaction gives us a better sense of who the students are and what they have to offer." He said that students are more open, honest and bold in face–to–face interactions than on a virtual platform.
Similarly, Carlos Maia of KPMG praised the Career Centre for hosting a well-organised event. He also said the students were a delight to engage with. "Students are usually shy, but these students have been asking great questions and participating in a mutually-beneficial way," he said.
Throughout the day, students got the chance to ask questions and discuss the job and internship opportunities available. The fair saw postgraduate students, and many undergraduate students attended as well.
Among them was Khwezi Cele, who is doing his second year, majoring in Information systems and Economics. He said, "I think it's been very informative. This experience has given me focus because I now better understand the career paths I can follow."
Source: Communications