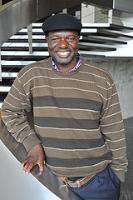 The latest issue of New Coin magazine, out this month, was edited by Vonani Bila. He is the first black editor in the nearly fifty-year history of this Rhodes University-published poetry magazine which has a national and international reputation.
Bila is himself a poet, musician, creative writing coach and editor, a writer with over ten published books to his credit, and also a student – he is currently completing his MA in Creative Writing at Rhodes. He is founder and editor of the poetry journal Timbila and directs the Timbila Poetry Project in Limpopo Province, South Africa's only poetry-focused NGO. He has been instrumental in getting the works of marginalised poets into circulation and devotes much of his time to encouraging new voices. He regards New Coin as an important element in that process.
"New Coin has launched the careers of many key South African poets, ancients and moderns, lifting their heads up, and has become home to new and budding poets of various orientations. Because of New Coin's power, contemporary South African poetry is vibrant and increasingly gaining currency beyond our borders."
Published twice a year by the Institute for the Study of English in Africa (ISEA) at Rhodes University, the magazine was founded in 1965 by Guy Butler and Ruth Harnett. Bila's vision for this edition, he says, was to further "the quest for a sense of common South African poetics. I was trying to position the magazine to dismantle the vestiges of institutionalised and blind liberal poetics. I think this latest edition is a mirror of new South African poetry in English."
It includes poetry by, amongst others, Jim Pascual Agustin, Kobus Moolman, Mangaliso Buzani, Damian Garside, Anton Krueger, Denis Hirson, Saut Situmorang, Alan Finlay, Kelwyn Sole, Goodenough Mashego, Linda Ndlovu, Lesego Rampolokeng and Lethokuhle Msimang. Bila says about his first issue "I was struck by the extensive innovation with which the poets approached the craft. I'm attracted to unintimidated poets who try to come to terms with the human condition through celebrating its resilience. The poems collected here are life giving, life supporting."
Subscribe now to get both June and December issues of New Coin for R170. Email isea@ru.ac.za or call 046 603 8565. The Rhodes MA in Creative Writing 2014 (full time and part time) is open for applications. Go to www.ru.ac.za/isea/courses/mainwriting/ to find out more. Applications close on 31st October.
Caption: Writer and musician Vonani Bila is the editor of the latest issue of the Institute for the Study of English in Africa's literary journal New Coin. This magazine, founded in 1964 by Guy Butler and Ruth Harnett, has been revived by those involved in Rhodes University's MA in Creative Writing, which falls under the auspices of the Institute.
By Carolyn
Source: Bookslive website
Source: Bookslive website
Please help us to raise funds so that we can give all our students a chance to access online teaching and learning. Covid-19 has disrupted our students' education. Don't let the digital divide put their future at risk. Visit www.ru.ac.za/rucoronavirusgateway to donate