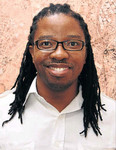 Setswana author tells stories from the streets.
The literary gods are smiling on author and poet SabataMpho Mokae. Just the other day he received the good news that he'd passed his Masters degree in creative writing at Rhodes University.
Before he could say "hooray" another set of good news arrived to say his second book, Dikeledi, would be launched soon. No one will begrudge the affable Mokae this double whammy for a number of reasons, among which is that he works hard in pursuit of a worthy cause. The Kimberley-based Mokae writes in Setswana.
His first novel, Ga ke Modisa, won two M-Net Awards — one for the best novel in Setswana and the other, the film award, last year. If it has done anything for literature, the Oscar Pistorius murder trial has brought the issue of mother tongue communication into sharp focus. Mokae has been making a case for Setswana before Michelle Burger took the stand as the prosecution's first witness and, by her insistence to testify in Afrikaans, got the country talking about the centrality of language in defining a people.
Mokae invokes the wisdom of Sol Thekiso Plaatje when asked to explain the significance of writing in Setswana. "He [Plaatje] perceived his language to be under threat due to the increased use of English as a language of business, government and education," he says. "At that time English was also favoured by the educated blacks to display their imagined sophistication. "A century later, not much has changed even though the language is not extinct as Plaatje had feared it would be.
"But rapid Anglicisation is not a rumour. "An increasing number of black parents speak English to their children, which makes writing in an African language a matter of preserving it as well," he says. He gripes that black languages have been reduced to "home language", even in areas in which they are supposed to be the main languages. "You find that in a court of law in Mahikeng, the accused, witnesses, prosecutor, defence lawyer and judicial officer are all Setswana-speaking, yet the trial is conducted in English, with a Motswana interpreting.
This is preposterous," he says. He grew up with folk tales around the fire, told by his grandparents, Mokae says. They also told stories of Sophiatown and work in the mines. "The stories I tell are from the streets of Tshwane, Galeshewe, Taung and other places. "I'm an eavesdropper. I merely relate these stories —and I hope better — on paper, by writing in Setswana.
"I tell these stories in the same language I heard them," he says. His influence transcends generations of writers in his mother tongue, from the pioneer Plaatje himself down to the likes of MOM Seboni, DPS Monyaise and his relative, Dr Gomolemo Mokae. The main protagonist in Dikeledi (Tears) is at the helm of a child-headed household and Mokae mirrors the experiences of these new "mothers" through her life, including falling prey to the wiles of a sex predator priest.
The subject matter in Dikeledi speaks to the now —2014. Mokae would like to see more African writers prescribed as setworks in schools. This has hitherto only been the forte of the usual suspects. Mokae will feature at The Day of the Author on April 11 at Wits University. Article courtesy of makatilemedia.
Caption: MAKING HIS MARK: Sabata-Mpho Mokae would like to see more African writers prescribed as setworks in schools PHOTOS SUPPLIED
By: Don Makatile
Article Source: SOWETAN (Late Final)
Source: Sowetan Live
Please help us to raise funds so that we can give all our students a chance to access online teaching and learning. Covid-19 has disrupted our students' education. Don't let the digital divide put their future at risk. Visit www.ru.ac.za/rucoronavirusgateway to donate