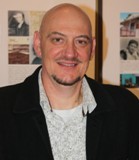 This year's first Andrew H. Mellon Foundation fellowship writer-in-residence, Award-winning poet, Dr Kobus Moolman says the residency grants him time to pause and reflect.
"It helps to look at my work a bit more objectively and to look at where I've come from and where I'm going," he says.
Dr Moolman is teaching the Masters in Creative Writing students, giving public reading and lectures and creating his own work "free from the pressures of daily duties".
"The words come from the dark a place that is bigger and deeper than what my conscious, individual mind can access," he says.
He regards the act of writing as a complex flow of give and take. "I don't really believe in the Muse as such, but in discipline over inspiration. As a writer, you know that if you write every day, getting up to sit at your desk, even if you don't want to, the Muse will meet you there, or will at least show up at some point!"
Dr Moolman launched his sixth anthology of poems, Left Over in June, at National English Literary Museum's (NELM) Eastern Star Gallery.
Left Over describes the inner world of a man dealing with what Moolman calls "being in the flesh, being a body in the world".
A lot of his writing deals with "trying to understand how language works; a way out of the silence, a way through the silence".
He is also fascinated by form, trying to present poetry in a different, less poetic way. "If a reader is prepared to spend time reading my work, I think they will find some point of connection there- I don't write intellectual poetry, it's not what I'm interested in."
Sparse but dense, his prose-like poetry is arresting in its intensity and power. The poems can be read separately but there is a distinct narrative in that they lead from one to another, with some images and motifs repeating themselves.
He describes this as "a conversation with myself, to reach into the darkness, language feeding into non-language."
A key theme is how the body reaches states of transcendence; a profound connection between the spirit and the body. He says that it's often only much later after completing a collection that he fully understands what it's really about.
"Now, a year after writing Left Over, am I slowly beginning to understand their depth, what they mean to me."
As a lecturer at KwaZulu-Natal University, he enjoys teaching, noting that he has just wrapped up classes on character and dialogue and poetic form with the Rhodes Masters students.
"They are there because they want to be there, they want to be challenged. I don't feel as some other writers do, that teaching dissects my craft, my own learning comes from other writers, as well as being an addict of reading poetry."
He relishes the stimulation and new ideas sparked off by visual art, dance and film. "Having worked in the visual art world for 14 years, I get a thrill from looking at visual art because it stimulates me to write in a different kind of language."
Poet Robert Berold, who edited the volume, says Left Over is the most powerful book of poems written by a South Africa in the last 10 years. Highlighting the resonances with Beckett's prose, he says: "On the surface it looks bleak but there's an undercurrent of real optimism and survival that shines through."
Moolman thanked Berold in turn for "walking the journey with me when I never believed in it". He complemented the Masters in Creative Writing programme for nurturing young writers of strength, integrity and depth and dedicated Thursday (6 June 2013) night's reading to "the people of Grahamstown, who have meant a lot to me during this residency".
His previous work includes Time like Stone and Blind Voices: a collection of radio plays, as well as editing Tilling The Hard Soil: Poetry, prose and art by South African writers with disabilities, a concern which lies close to his heart.
He will be at Rhodes University for three months until mid-July.
Photo and story by Anna-Karien Otto
Source:
Please help us to raise funds so that we can give all our students a chance to access online teaching and learning. Covid-19 has disrupted our students' education. Don't let the digital divide put their future at risk. Visit www.ru.ac.za/rucoronavirusgateway to donate