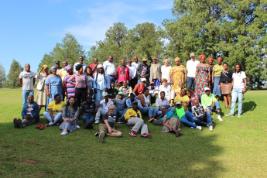 The Tsitsa Project (TP) governance team from the Institute for Water Research (IWR) held a workshop titled "Learning words workshop". The workshop was meant to bridge the language use gap between TP researchers and the communities who are affected by the project. The stakeholders who participated in the workshop included citizen science technicians, Citizen monitors (Vetiver growers), Livestock owners, Adaptive Planning Workshop participants, Take note, Community Development Workers (CDWs), Community Worker's Programme (CWP), Ward Committee members, and other community members who were interested in the workshop. The stakeholders represented the following villages: Lower Tsitsana, Lower Sinxaku, Shikunxa, Caba, Nkonkweni, Hlankomo, Bpngweni, and Ngqakaqeni.
The workshop lasted for two days, 19th and 20th February, where the first attendees worked in group with the governance team to do word clouds from a single word, and two representatives from the groups presented their group cloud. The second day of the workshop had the Tsitsa Project described to the participants, and three groups were made with representation from each of the stakeholder groups that were represented, to talk about what their role was in the Tsitsa Project. The two days ended on a good note, where networks seemed to have been formed, and contacts exchanged for further communication. One of the elders who said the closing remarks mentioned who delighted they were that the team felt the necessity to do the workshop, and said he hoped the team would come back with more activities for them.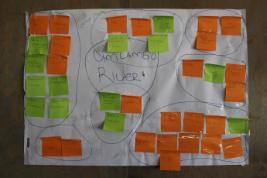 In all, the workshop purpose of sharing words in both English and in isiXhosa became a success as the team learned a lot of new words, while the community was happy to teach the team and narrate their stories in relation to their resources.
Source: Mateboho Ralekhetla
Please help us to raise funds so that we can give all our students a chance to access online teaching and learning. Covid-19 has disrupted our students' education. Don't let the digital divide put their future at risk. Visit www.ru.ac.za/rucoronavirusgateway to donate