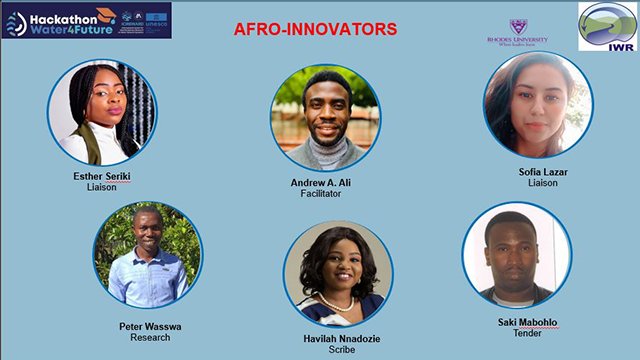 By Peter Wasswa, Sofia Lazar, Andrew Ali, Esther Seriki, Havilah Nnadozie and Sakikhaya Mabohlo
It was not 'research as usual' for six MSc students from the Institute for Water Research (IWR) at Rhodes University on 16 and 17 February, 2023. The six students, Andrew Ali, Havilah Nnadozie, Esther Seriki, Peter Wasswa, Sakikhaya Mabohlo and Sofia Lazar participated in the 5th edition of the W4F Hackathon organised by the UNESCO ICIREWARD International Centre in Montpellier, France.
This team entered the competition under the name "Afro Innovators" and emerged as the third-place winners out of 69 teams from 17 countries. The African continent was represented by Tunisia, Morocco, Algeria, Senegal, Ivory Coast, Benin, Niger, Cameroon, and South Africa (Rhodes University).
The hackathon objective was to work on current water challenges concurrently to present concepts and unique solutions in 48 hours under the theme Water and a Sustainable City.
The 5th W4F theme (Water and Sustainable City) was disclosed to the participants two days before the hackathon commenced. Each team was given 48 hours to identify a problem, propose a solution, and draft a financial business plan, followed by rounds of live pitching. Through this annual event, ICEREWARD intends to build a culture of innovation and entrepreneurship from science, technology and engineering students, towards solving social-environmental challenges.
The judges commended the team's hard work, dedication, and creativity in solving the critical local challenge related to water pollution. The proposed sand water filter, named ISHLUZO was applauded for its cost-effectiveness, sustainability, and ability to provide equitable access to safe drinking water. It is hoped that this product will provide a more affordable and accessible water filtration system at household level. Moreover, the team hopes to showcase prototypes of their proposed solution at the upcoming Scifest Africa, hosted annually in Makhanda.
The team's commitment to long-term socio-economic environmental development objectives has the potential to transform lives and create a more resilient and sustainable future for all.
The six IWR students come from Nigeria, Algeria, Uganda and South Africa, and are supported by the African Water Resources Mobility Network, funded by the European Union, and the National Research Foundation. Their success at the hackathon competition is testimony to their hard work, dedication, and good coaching from a panel of advisors: Dr Jane Tanner (Director: African Research Universities Alliance (ARUA) Water Centre of Excellence), Dr Patsy Scherman (Director: Scherman Environmental cc.), Dr Rebecca Powell (PostDoc fellow, IWR), Sinetemba Xoxo (PhD Researcher-Hydrology, IWR), Mary Chibwe (PhD Researcher-Water Resource Science, IWR) and Institute for Water research team.
More details about the competition can be found on the University of Montpellier's website.