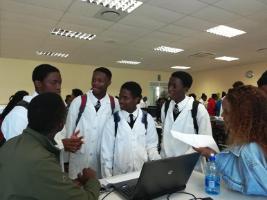 IWR participated in the Rhodes University Science Faculty open which was held on the 8th of March. The open day is an annual attempt by the faculty to engage high school learners and prompt their interest in science-related issues as well as showcase the numerous science program offered by the university.
This year, the institute ran a mini-workshop centred around building a water supply system and highlighting good citizenship for water resources. The workshop activities included:
A water-wise quiz which addressed current issues such as drought. The quiz allowed contributors to engage meaningfully with the leaners and get a sense of how members of the broader Makhanda community view and respond to water issues. It also made the learners aware of their own water consumption and prompted discussions around water conservation.
Demonstration of the Grahamstown water supply cycle and the South African catchment management. Leaners used maps to locate their homes and then trace how they fit into the water supply system in terms of where their water comes from, how it is cleaned and transported to them as the end users. Leaners responded quite positively to this activity and there were some lively discussions around this topic.
Overview of the research and activities carried out in the institute including, the kinds of careers the leaners could explore in the water sector that matches with their interests.
Source: Phatsimo Ramatsabana
Please help us to raise funds so that we can give all our students a chance to access online teaching and learning. Covid-19 has disrupted our students' education. Don't let the digital divide put their future at risk. Visit www.ru.ac.za/rucoronavirusgateway to donate