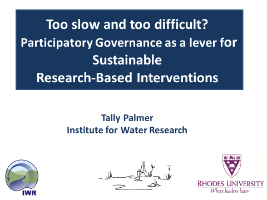 Prof Tally and Dr Tony Palmer represented the IWR at the International
Savanna Network Meeting 4-8 March 2019. The network meeting has been hosted
in Skukuza, by Kruger National Park Scientific Services for 17 years. The
IWR has been regularly represented. In the early days by Kruger Rivers
Programme research - Prof Tally Palmer and Dr Patsy Scherman; then Prof
Tally Palmer, Derick du Toit and Hugo Retief (AWARD -Association for Water
and Rural Development) - working on water quality in the Crocodile River,
and recently the challenge of practical social relevance.
This multi-disciplinary meeting attracts some of the top scientists, mainly
ecologists, in South African and internationally, and is characterised by
senior scientists actively mentoring students and post-graduate students.
This year Prof Tally Palmer's paper: Too slow and too difficult?
Participatory Governance as a lever for Sustainable Research-Based
Interventions attracted keen discussion.
Professor Lars Hedin, Director of the Princeton Environmental Institute
picked Tally's question as the key take home message for the conference: How
do we effectively integrate the excellent science with excellent social
science and social relevance?


Source: Prof. Tally Palmer
Please help us to raise funds so that we can give all our students a chance to access online teaching and learning. Covid-19 has disrupted our students' education. Don't let the digital divide put their future at risk. Visit www.ru.ac.za/rucoronavirusgateway to donate