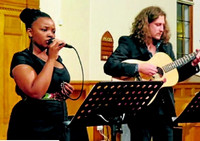 EAST London-born jazz muso Babs Kakaza has performed on stages across the world but then fell pregnant and moved back home to settle down.
However, the 32-year-old mother of a now sixyear-old boy vowed that her love for music will never die and continues to teach and perform. When the Daily Dispatch wrote about Kakaza in October 2010, she had just moved back to East London where she took up a job as a music teacher at Hudson Park High School. Prior to this, she had been involved in numerous productions done by the school and outside.
She has done solo work and has been a music director for productions such as Castaway, Romeo and Juliet and West Side Story. She travelled overseas and performed in Norway, Germany, the Netherlands, Belgium, Denmark, Sweden and the United Kingdom before moving back home after giving birth to her son. Kakaza and her son now live in the Cape Winelands where she teaches at the prestigious Bridge House School near Franschhoek.
Moving to the Western Cape has not only given her an opportunity to continue sharing her skills with pupils but has given her a chance to finish what she had started before moving back to the Eastern Cape in 2009. "I left Hudson Park early 2013 because I felt like I wanted to advance my career. I enjoyed working there but I wanted to be exposed to more opportunities.
It was between Cape Town and Johannesburg because both have a vibrant live jazz music industry," she said. And so when a post opened up at Bridge House she used the opportunity to spread her wings as both teacher and jazz singer. "Although the school is in Franschhoek, I thought 'well it's not too far from Cape Town."' Kakaza has made a return to Norway. "There have been a couple of projects I've been involved in besides school.
There are many gigs this side for jazz. Last year I went to Norway for a South African music project that I was doing. It is an ongoing thing, it is an exchange of music between the two [countries]; we go there and learn their culture and songs and they also come here to do the same," she said. She said during her trips away, her family helped with looking after her son. Kakaza matriculated from Clarendon High School and studied jazz at the University of Cape Town.
She did honours in Ethnomusicology at Rhodes University where she also taught jazz vocals and was the director of the Rhodes University Jazz Vocal Ensemble. At Bridge House she teachers music both at primary and high school level. "It has been amazing, we just finished working on Beauty and the Beast with the high school pupils," she said. She added that teaching at Bridge House was different from when she was in East London. "I can't compare the two, the vibe here is different.
I work with people from different cultures and I am always learning new things," she said. Developing talent in her hometown was a dream come true for her. "East London has a lot of talent and it was amazing being part of the process of developing it."
Kakaza said she had no plans to stop teaching and the Cape Winelands was where she planned to stay for the next couple of years. "There are other projects coming up but I can't say much now, all I can say is, watch this space." This Out of the Vault series is an opportunity for readers to request us to follow up on stories that have appeared in the Daily Dispatch over the years.
If there is something we have covered that was of great interest to you and you believe we could follow it up, please e-mail us onjuliab@dispatch.co.za or call Julia on (043) 702-2000.
Picture Caption: TALENTED: Babs Kakaza performing at one of her many jazz shows. On the right is a 2010 article from the Daily Dispatch
By: Poliswa Plaatjie
Article Source: Daily Dispatch