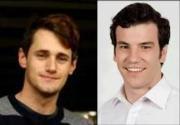 Two Rhodes University alumni, Timothy Abel and Dylan Smith, were recently awarded prestigious Rhodes Scholarships. They will jet off to England later this year to study at the University of Oxford.
Speaking about his recent academic and professional achievement, Smith said "being elected to a Rhodes Scholarships is without a doubt the highlight thus far."
Abel is also excited about his achievement. "It's an amazing opportunity and I intend to take as much advantage of it as I can," he added.
"I feel Rhodes has prepared me so well in no small measure due to the excellent standard of courses and the nurturing nature of the staff at the Economics Department. I have received so much encouragement and support from them for which I am very grateful," said Abel.
"I think Rhodes has provided me with the best possible foundation in order to take on Oxford. Of this I am certain. There are very few other places I can think of that will let you major in Music and Economics without making a fuss."
According to Smith the scholarship presents an opportunity to develop his character and academic ability to the point where he can have a major impact in South Africa and the continent.
"My vision for my return to South Africa is to work as a professional economist, where the impact of my work on society is significant and positive. This might mean working for the South African government, a global institution or in the private sector – I am open to opportunities," Smith said.
"With time, I hope that my work will form a path toward leadership roles that will compound the impact and importance of my work. Hopefully my time away will help me to narrow down the more specific details of my contribution."
Smith will be studying MPhil in Economics, where he will be a member of St. John's College at the University of Oxford.
Abel will be reading for an MPhil in Development Studies. "Having completed my honours research project in the field of Cultural Economics, I have become increasingly interested in the influence that culture, and the cultural industries can have on a country's development trajectory."
"This is an area which fits quite nicely within the ambit of development studies, as is my other interest in the role of democracy in economic development. Since the degree is done through a combination of coursework and thesis I haven't as yet finalised the topic of my thesis, but it is likely to be in one of the two areas," he added.
"Now that the initial shock and surprise of award has worn off a little, I feel incredibly humbled to be included in such an accomplished group of scholars, and to be selected from the strong group of candidates I met during the process," said Smith.
"As an economics student at Rhodes University, and having worked as a professional economist in the private sector, I believe that this is the area where my particular skills can have the most impact. I also have a natural enjoyment of the subject which I am indulging somewhat. My electives and research will have a development and macroeconomics focus within the field of economics," said Smith.
Smith said previous Rhodes Scholars had made massive and progressive contributions to academia and society at large in South Africa and the throughout the world. "I am delighted at the opportunity to develop myself to the point where I may be able to do the same."
Smith completed his degree in Economics in 2012, and worked as a consulting economist to South African, African, International companies and NGOs. His work across the continent has crystallised his interest in applying the mechanics of macroeconomics to the emerging problem of sustaining Africa's growth boom.
He won the 2012 National Budget Speech Essay Competition, the highest open prize in economics in South Africa.
He was also involved in a number of initiatives that improve access to educational opportunity - primarily through teaching debate and public speaking in the English language to disadvantaged high-school learners.
Smith co-founded the Rhodes University Students Economics Forum and Chaired the Rhodes University Debating Society.
Abel completed his Bachelor of Economics (Honours) degree in 2014 with distinction, majoring in Economics and Instrumental Music Studies.
He won the Dean of Students Leadership Award 2013, for leadership, extraordinary extramural achievement and involvement in community engagement.
He served as President of Masincedane Society, a community engagement enterprise which runs soup kitchens, skills workshops and two community gardens.
Abel sees himself pursuing an academic career which contributes to broadening the understanding of the mechanisms of economic development.
The Rhodes Scholarships are awarded to outstanding all-round students. The Rhodes Trust provides the Scholarships in partnership with Second Century Founder, John McCall MacBain and other generous benefactors.
The Rhodes Scholarships was established in 1903 under the will of Cecil Rhodes and it is the oldest and the most prestigious international graduate scholarship program in the world.
By Zamuxolo Matiwana
Picture: From left to right: Timothy Abel and Dylan Smith.