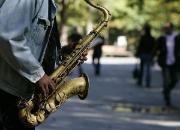 Today (January 18) is the second and final day of the Rhodes University History, Politics and Aesthetics of Jazz Conference: an opportunity for scholars to draw together the various threads of inquiry that currently characterise the study of South African jazz culture.
Conference topics have ranged from jazz stokvels and jazz in contemporary literature to jazz performance and jazz as part of the South African music business. The conference has also seen the launch of a landmark book: Professor Carol Ann Muller's Musical Echoes (Duke University Press). The book, grounded in the biographical recollections of veteran vocalist Sathima Bea Benjamin, tells us a great deal about the tectonic shift that has been taking place in musicology outside this country. It is becoming more acceptable to acknowledge that all the world's music genres (whether the sonatas of Beethoven or the improvisations of Bird) have their own sociologies, discourses, traditions, conflicts and politics. The elitist exemption for a Western classical tradition presumed to be "universal" has gone.
One of the events that has opened up such debates in this country since 2006 has been the Johannesburg International Mozart Festival which, under the direction of pianist Florian Uhlig and Richard Cock, will start on Friday January 27. The opening concert is at the UJ Theatre, where Standard Bank Young Artist winners vocalist Melanie Scholtz, saxophonist Shannon Mowday and violinist Samson Diamond present work across and between classical and improvising jazz traditions.
The concert gets a repeat on Saturday evening (January 28) at Masakeng in Soweto's Mofolo. That dialogue is typical of the festival's narrative. In the ensuing weeks, music by Mozart and other masters of the classical canon is presented alongside new works by this year's composer-in-residence, pianist Paul Hanmer, and by Michael Blake, Chick Corea, guest organist Daniel Roth, the German jazz trio of Benjamin Schaefer and more.
Hanmer's growth as a composer across genres was fostered by time spent with other composers at overseas workshops; he began to broaden his work at an early New Music Indaba Growing Composers symposium in Grahamstown. Sadly, opportunities for composers remain limited in SA. While it would be unthinkable to consider the visual arts without reference to painters, sculptors and designers, the public landscape of music is dominated by a (not always relevant) spotlight on players. Yet if the traditions established by indigenous composers such as Michael Moerane, Mzilikazi Khumalo and Princess Magogo are to be carried forward into new forms and frameworks, it is awareness of the role of composition and investment in fostering it that is required.
The Swiss Arts Council Pro Helvetia has just opened one relevant door. It has made a call for applications from practitioners in any genre for residencies in Switzerland in the 2012-13 funding year. Residencies can vary in length from one to three months, for either research or to realise a project. They are fully funded and include contact with a Swiss colleague. Further information is available from communications@prohelvetia.org.za or (021) 465-9033.
Another invisible aspect of the music industry is its business side. And another door opening this year is the launch by the Academy of Sound Engineering of a two-month Music Business Master Class, running for two nights a week at the Academy's Auckland Park campus from February. The course covers topics ranging from marketing and contracts to conceptualising a music product and understanding business models.
Tutors are Nick Matzukis, author of South African Music Law and Contracts, and David Chislett, author of 1-2, 1-2: A Step-by-step guide to the SA Music Industry. The course fee covers copies of both books as well as tuition and other materials. Applications and enquiries should be directed to georgej@ase.co.za or (011)482-9200.
By Gwen Ansell
Source: Businessday website
Photo source: Reuters