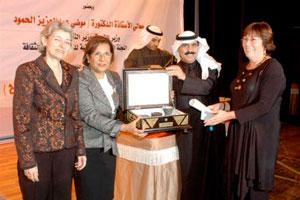 Judy McKenzie, a PhD candidate in the Psychology Department at Rhodes University is 'honoured and excited' to have been awarded the UNESCO/Emir Jaber al-Ahmad al-Jaber al-Sabah Prize to Promote Quality Education for Persons with Intellectual Disabilities.
Judy was flown to Kuwait to receive the prize from UNESCO's Director-General, Irina Bokova and the Kuwaiti minister of Education, Professor Moudi A. al-Humoud, during a glittering ceremony held on Tuesday 8 December 2009. She experienced true Arab hospitality in Kuwait and was privileged to meet the current Emir of Kuwait , Sabah IV Al-Ahmad Al-Jaber Al-Sabah, who congratulated the award winners and stressed his commitment to serving the interests of disabled people.
This prestigious prize is awarded every second year to only two recipients – one from the Arab states and one from the rest of the world. The prize was instituted to acknowledge outstanding work carried out by individuals, groups or organizations to promote quality education for persons with intellectual disabilities. Judy was nominated for the prize by colleagues in the national Department of Education in recognition of her contribution to the field of inclusive education.
Their acknowledgement of Judy's work is echoed by Professor Catriona Macleod, Head of the Rhodes Psychology Department and Judy's PhD supervisor, who describes Judy as a 'very well balanced person who effectively combines intellectual prowess with genuine empathic humanity' and who has 'worked consistently and with dedication in the field of inclusive education'. She says, 'having a son with an intellectual disability means that Judy lives the reality of battling for the social and educational inclusion of her child, while at the same time taking a meta-perspective in terms of her interventions and research'.
For Judy, the most significant feature of this prize is that it 'sends the message that the education of intellectually disabled people deserves attention – it is important enough'. This stands in welcome contrast to the widespread marginalisation of concerns related to intellectual disability, a state of affairs that Judy strongly opposes from both a personal and a professional perspective.
Judy feels that her doctoral studies at Rhodes University, under the 'wonderfully rigorous' supervision of Professor Macleod have offered her the opportunity to 'step back from the doing', to reflect, and to engage more critically with current knowledges and practice in relation to intellectual disabilities. The process has allowed her, in her recently submitted thesis, to propose new ways of looking at disability, focussing on abilities rather than deficits.
The overwhelmingly positive response to Judy's work suggests that she has been successful in achieving this goal. Her examiners have praised her 'informative and innovative' work for its 'timely and critical contribution' to policy development and implementation for persons with intellectual disabilities. They believe that her thesis will make a significant contribution to Disability Studies as an emerging academic discipline, both in South Africa and internationally.
Judy is delighted with this response, and feels that it reflects not only on her own work but on the support that she has received from Rhodes at every level. She pays particular tribute to Professor Macleod, who, Judy says,'taught me to be clear in my thinking and writing and not to be afraid of what I wanted to say'. These are skills that will be of great value as Judy takes up a post-doctoral research post in HIV/AIDS and disability at the University of Stellenbosch in the new year.