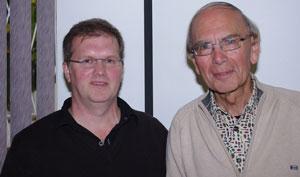 Earlier this week Professor Hubert Hermans, one of the main theorists in narrative psychology and in narrative psychotherapy, visited the Psychology Department. Professor Hermans presented a talk on the "Dialogical Self".
During his career he has developed several influential methods and theories. One of them is the Self Confrontation Method (SCM) that has led to the establishment of the Association for SCM practitioners that has around 300 members in 2010. Another is the Dialogical Self Theory that has led to the organization of biennial international conferences, the establishment of the International Society for Dialogical Science (ISDS) and the International Journal for Dialogical Science (IJDS).
Professor Hermans is an author of around 200 publications, mainly on the Self-Confrontation Method and Dialogical Self Theory. His work is translated into nine languages. He is author of Self-Narratives: The Construction of Meaning in Psychotherapy (with Els Hermans-Jansen), The Dialogical Self in Psychotherapy (with Giancarlo Dimaggio) and Dialogical Self Theory: Positioning and Counter-Positioning in a Globalizing Society (with Agnieszka Hermans-Konopka).
For almost 40 years Professor Hermans was associated with the Radboud University of Nijmegen, where he studied psychology and became Professor of Psychology. He taught in the Department of Clinical and Personality Psychology at Nijmegen until 2002 when he became professor emeritus.
Professor Hermans continues to work on Dialogical Self Theory and, together with Agnieszka Hermans Konopka, on its implementation in dialogical practice in the International Institute for the Dialogical Self.