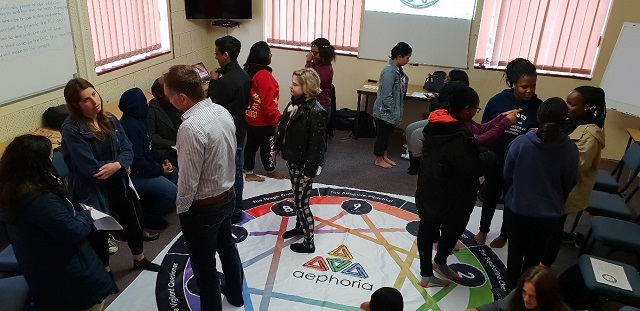 Our Organisational Psychology students were fortunate to be treated to an interactive learning experience facilitated by Simon Kettleborough and Julia Kukard from Aephoria Partners who also teach on the MBA at UCT.
Given that the course focused on psychological assessment in the workplace, Simon and Julia facilitated feedback to the students on their Enneagram and Identity/Maturity assessments. The students found this extremely useful because the results accurately reflected the behaviour of individuals and groups in the Honours class and this led to much laughter and mirth. This enabled them to deeply experience the value of assessments in personal and leadership development. The students were particularly interested in how the assessments reflected the South African context through the use of Biko's work on inner and outer freedom.
Simon is a founding partner of Aephoria Partners and a one-to-one and group facilitator with a 23-year career in private, public and non-profit sector organisations working on Leadership Development, Strategy, Sustainable Development and Diversity & Inclusion.
His main work is designing and delivering long term leadership development interventions for middle, senior and executive leaders in organisations. He develops deep relationships with clients, working with many individuals and teams repeatedly and over time.
Simon works extensively with the Enneagram Personality typology and the Expanded Identity Theory Framework. He is a certified Practitioner of Neuro-Linguistic Programming with the International NLP Trainers Association, an Accredited Professional Practitioner with the International Enneagram Association in Cincinnati USA and a certified Leadership Maturity practitioner with the Center for Leadership Maturity in Boston USA.
Simon is currently engaged in a Doctorate in Existential Psychotherapy at the New School of Psychotherapy and Counselling in London (in conjunction with Middlesex University). He has a MSc. in Sustainable Development with Distinction from London University, a MBA with Distinction from Warwick University, a Postgraduate Diploma in Management from Leicester University and a BA Honours degree in Modern Languages and Music from Durham University. He is a member of UK Society for Existential Analysis (SEA) and the UK Universities Psychotherapy and Counselling Association (UPCA) and has lived and worked long-term in the UK, South Africa, France, Belgium and Brazil. Simon speaks English, French and Portuguese, and when he's not working he rides his bicycle around the Western Cape and plays keyboards in an 80s rock band.
Julia Kukard (MA, MBA, BA Hons) is a founding partner of Aephoria Partners and a leadership and inclusion professional with almost 30 years of experience in learning and development. She has worked globally including in South Africa, UK, Lesotho, Ghana, France, Uganda, Netherlands, Brazil, India, UAE and China with multinationals, nationals, governments and NGOs.
Julia's experience includes working with individuals and groups as a coach, psycho-educator and more recently as a psychotherapist. Julia is currently completing a doctorate at Middlesex University in Existential Psychotherapy.
During the past six years, Julia has run the Advanced Leadership elective on the University of Cape Town Graduate School of Business MBA. Her research focus is on supporting the development of mature leaders and cultures that can enable human maturation. Julia has co-written a book on this with Dean Kai Peters from Ashridge University and Professor Kurt April from the Graduate School of Business UCT.
Source: Dr Grant Freedman, Organisational Psychologist and Senior Lecturer