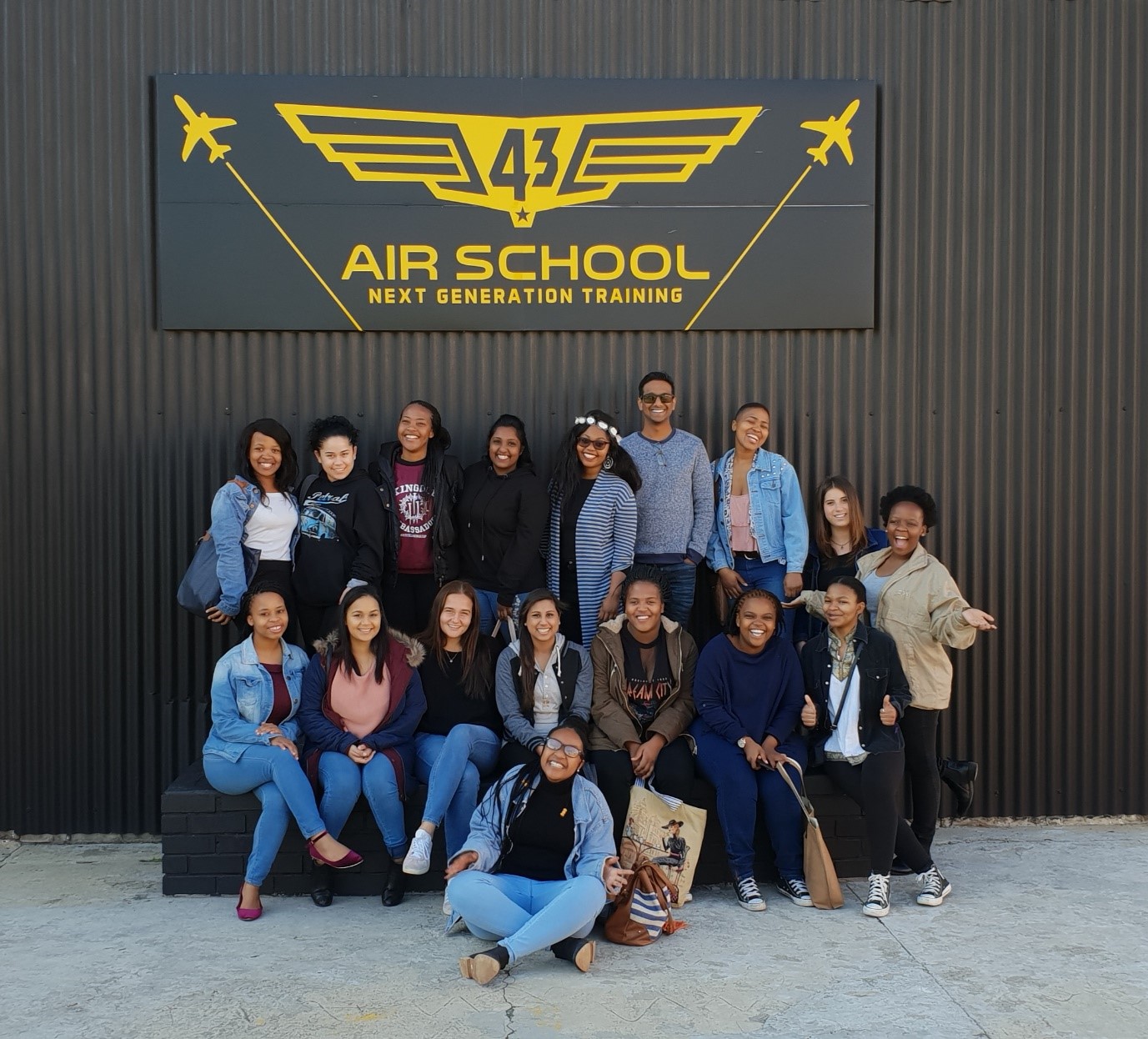 Our 17 Organisational Psychology Honours students visited 43 Air School, Port Alfred, on 31 July 2018. In Org Psych, students study and do research on issues related to the world of work in order to understand, modify and enhance individual, group and organisational behaviour, well-being and effectiveness.
43 Air School has trained over 5000 graduates for the general, airline and military aviation sectors over the past 30 years. It is Africa's only Jeppesen and Boeing approved ab-initio facility and to offer an Integrated Air Transport Pilot's license. Along with their Jet Pilot Program, the air school delivers a first officer airline ready candidate in less than 24 months. They also train Air Traffic Controllers.
Attie Niemann, the CEO of 43 Air School, hosted the visit. He kindly presented the history and development of pilot training in South Africa. Unbeknown to most of us, 43 Air School in Port Alfred is the third busiest airport in the country, in terms of flights per day.
Attie explained to the students what pilot training entails and how the flying school operates. Students were very interested in the business model, the selection of student pilots (who hail from 37 countries) and the competencies of successful pilots and flight instructors. Students were given a tour of the training, maintenance and operations functions at the school, as well as how students are looked after in terms of food, sport and teaching.
The visit was very informative and students learned a great deal about the role of Organisational Psychologists in a business like the Air School. The CEO challenged the students to prepare a convincing, value adding business case about the contribution that Organisational Psychologists can make to the Flying School. Answering this challenge will be a major step forward in preparing our students to make a valuable impact, through psychology, in the world of work.
We have been invited to undertake a similar visit to 43 Air School next year.
Dr Grant Freedman, Organisational Psychologist, Senior Lecturer, Psychology Department.