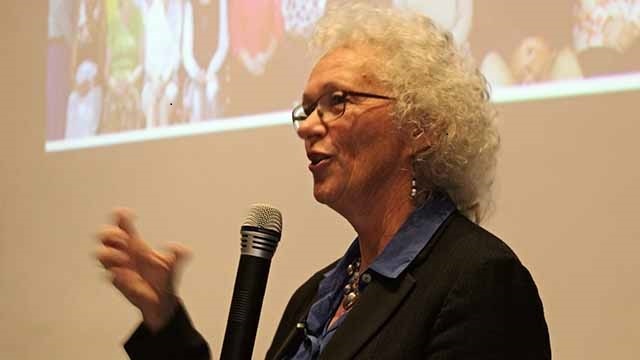 Professor Jacqueline Akhurst, 2017 recipient of the Vice-Chancellor's Community Engagement Award, presented a lecture on Community Based Service Learning (CBSL) as part of Rhodes University's Community Engagement Week on campus last night.
Akhurst, who is best known for her work on the use of community engagement as a tool for decolonisation and transformation of the curriculum, spoke to locals, students and university delegates from across the country and abroad.
In the lecture, Akhurst explained the importance of diverting from the US-based model of service learning to community-based service learning.
She believes that the knowledge base of a community is essential to student learning, since students form an important part of these communities. "It is not a charitable thing to simple provide a service. We need to have more co-learning, so that everyone learns from the process," she explained.
Akhurst went on to commend Rhodes University for being the only institution she's worked in where community engagement is taken seriously. "It isn't handed down to junior academics to do on the side, but central to the university's mission. And it is wonderful to be a part of this," she said proudly.
The calls for decolonisation and transformation have challenged academics to think about teaching and learning differently. It is in this context that Akhurst drew a link between community psychology and community engagement in her presentation.
She positioned community psychology as a practice foregrounded in social justice issues, but still concerned with how communities feel and interact with each other.
While at the University of Kwa-Zulu Natal (UKZN), Akhurst developed a cascading model of interaction that starts in third year with coursework and volunteering and service learning modules at Honours level. At Masters level, candidates work on a CBSL module.
Akhurst believes that this model generates some form of sustainability in community engagement. This model seems to be successful, since one of the findings of her paper was that the maintenance of partnerships with community-based organisations has been organic and based on common needs.
However, there were some limitations that included shifting needs, dependency of community partners to the trainees and time constraints since students can only be on site for six months. In the same breath, the Masters candidates and psychology trainees saw a need for more psycho-educational workshops and ways for more interdisciplinary development to take place in future.
"One of my students summed it up perfectly," she told the crowd. "Community work is hard in the beginning, messy in the middle and beautiful in the end."