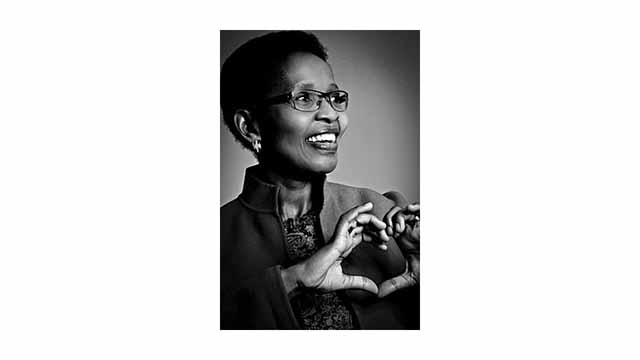 Pumla Gobodo-Madikizela is an author, Professor and holds the Research Chair Studies in Historical Trauma and Transformation in the Faculty of Arts and Social Sciences at Stellenbosch University.
Born in Kwa-Langa Township in Cape Town, she graduated from Fort Hare University with a bachelor's degree and an honours degree in Psychology. She obtained her Master's degree in Clinical Psychology at Rhodes University in 1984.
In October 2017, the Friedlich Schiller University in Germany bestowed upon her an honorary degree, Doctor of Theology honoris causa in recognition of her outstanding work on trauma in different social contexts in South Africa post-Apartheid.
Her book, A Human Being Died that Night: A South African Story of Forgiveness won the Alan Paton Award and the Christopher Award in the United States for "a book that speaks to the human spirit". The book has been published six times and translated into Dutch, German and Italian. She has co-written and co-edited various other books under the same theme of her research Chair.
Her current book project is a monograph (as editor) that focuses on a close analysis of dialogue between adult children of Nazi perpetrators and descendants of Holocaust survivors. She has an on-going collaboration with German and Jewish-German psychotherapists and psychiatrist based in Cologne and Dusseldorf.
Prof Gobodo-Madikizela was named the 2016 Distinguished African Scholar and she is internationally lauded for her groundbreaking research on guilt, reconciliation, forgiveness, and dialogues between perpetrators and victims.
Having served on the Truth and Reconciliation Commission as a member of the Human Rights Violations Committee, Gobodo-Madikizela has established herself as an international expert on the aforementioned topics.
She has received numerous international and national awards for her work and has also been rated by the National Research Foundation as a researcher who enjoys considerable international recognition by her peers.
Prof Pumla Gobodo-Madikizela is an ideal recipient of the Distinguished Old Rhodian Award and has been and will continue to be an inspiration to many.