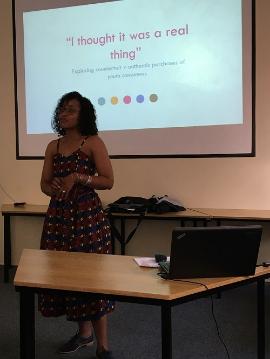 The Psychology Department invited Richenda Koeberg to be the keynote speaker at the annual Postgraduate Conference, held 18 October 2019. Richenda, a registered industrial psychologist, is a former student and staff member of the department. She is currently a lecturer and masters' programme coordinator at the Nelson Mandela University Industrial Psychology and HR department, as well as the Emerging Psychologists and Students committee member of SIOPSA EC.
Her keynote address focused on her masters' treatise, entitled "I thought it was a real thing": Exploring counterfeit v authentic purchases of youth consumers". Previous research on the purchases of counterfeit and authentic luxury brands has focused primarily on the supply side, which assumes a very economic/business perspective. However, this perspective assumes that consumers are unaware of counterfeits. Her presentation aimed to highlight contextual and psychological aspects to the counterfeit trade. As such, the research on which the keynote was based aimed to explore 1) whether youth consumers are able to distinguish between authentic and counterfeit products; 2) youth consumers' perceptions of luxury brands; 3) their counterfeit purchase behaviour; and 4) the perceived influence of functional or status utility products on purchase behaviour.
Data was collected using a discrimination test followed by focus-group interviews. This study found that luxury was perceived to be related to international brands, rather than domestic brands. The study revealed that participants were able to distinguish between authentic and counterfeit products without the aid of a particular purchase situation and/or price cues. The participants in the study conceptualised factory rejects as counterfeits; because they had not passed the quality-assurance processes. Thus, factory rejects inadvertently desensitise consumers to counterfeit products. However, the one product category that participants were not willing to compromise on was sneakers. This was because sneakers are regarded as social artefacts market segment. This study forms a foundation for future research on this phenomenon in the current context. She proposes that manufacturers be aware of the impact of selling defect branded products as this consumers conceptualise these products as counterfeits. Furthermore, she proposes that marketers focus on the salient role of sneakers as status symbols among youth consumers.