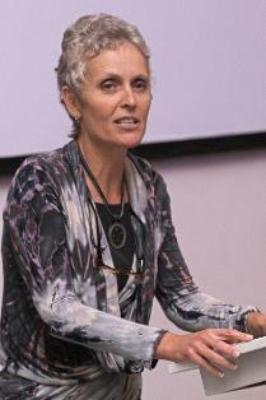 New Rhodes SARChI Chair to explore SA's significant sexuality and reproduction challenges
Date Released: Fri, 20 September 2013 09:59 +0200
Rhodes University has appointed Psychology Professor Catriona Macleod as the SARChI Chair in Critical Studies in Sexualities and Reproduction: Human and Social Dynamics, following a successful nomination by the University and approval by the National Research Foundation (NRF).
South Africa is faced with significant challenges surrounding sexuality and reproduction, including: high levels of forced sexual debut, sexual coercion and violence; transactional sex; HIV infection; rape (including child rape); hate crimes against lesbian women and gay men (including 'corrective' rape); unwanted and unsupportable pregnancies; and a high maternal mortality rate.
The overarching goal of the Research Chair in Critical Studies in Sexualities and Reproduction is to conduct critical research that addresses the social and human dynamics underpinning our slow progress towards full and just sexual and reproductive citizenship for all.
"Professor Macleod is a highly regarded researcher and the ideal candidate for this Research Chair which will extend and enrich the field of Critical Health Psychology through the multi-disciplinary and engaged nature of the research," says Rhodes University's Deputy Vice-Chancellor of Research & Development, Dr Peter Clayton.
"The Chair will drive the development of research capacity and postgraduate production in psychological and related studies in sexualities and reproduction. The research will, inter alia, highlight new ways of conceptualising key issues, lead rigorous research that addresses social issues underpinning health inequities and promote an intellectual activism that engages in social and health realities."
Prof Macleod's work brings South African critical and feminist psychology to national and international attention, engaging both with current international developments and dealing with the significant specificities of South Africa.
International and national collaboration with colleagues in the range of disciplines, including Politics, Education, Sociology, Anthropology, Gender Studies and Psychology bodes well for the depth and breadth of the work that will be conducted.
Joint projects are currently underway with colleagues within Rhodes, and from the University of the Western Cape, Stellenbosch University, University of Fort Hare, the Human Sciences Research Council, University of York (UK), Open University (UK), Leiden University Medical Centre (Netherlands), and the Royal Tropical Institute (Netherlands).
The approval of Prof Macleod's Chair was granted following a robust review process and evaluation by an NRF panel.
SARChI Chairs, awarded by the DST-NRF South African Research Chairs Initiative, are widely regarded as South Africa's most prestigious academic research platforms. Rhodes as the smallest university in South Africa holds an impressive 10 SARChI Chairs or 7% of all SARChI Chairs awarded to date.
Rhodes prides itself on its high percentage of postgraduate students, which all of its SARChI programmes help to produce. At the 2013 graduation ceremony Rhodes graduated 41% with postgraduate degrees. It celebrated a new University record of 63 PhDs – an outstanding achievement for the smallest university in the country.
Rhodes has one of the highest percentages of staff with doctorates of all South African universities: 56% of Rhodes academics have Doctorates.
Rhodes holds 10 SARChI Chairs, including:
Marine Ecosystems;
The SKA Chair in Radio Astronomy Techniques and Technologies;
Medicinal Chemistry and Nanotechnology;
Mathematics Education;
Numeracy;
Intellectualisation of African Languages, Multilingualism and Education;
Insects in Sustainable Agricultural Ecosystems;
Interdisciplinary Science in Land and Natural Resource Use for Sustainable Livelihoods;
Critical Studies in Sexualities and Reproduction: Human and Social Dynamics; and
Marine Natural Products Research.
Rhodes is currently funding a range of new academic initiatives as part of its strategy to grow its postgraduate student numbers, research and development programmes and to increase its research outputs. This will further enhance its standing as the 'Scholarly University'.