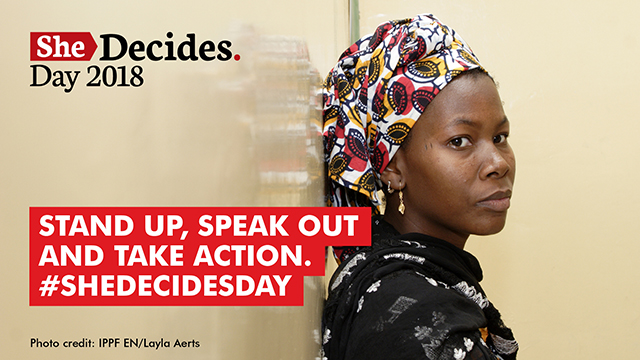 The SheDecides movement emerged as a response to the reinstatement of the Global Gag Rule (GGR) – a US policy which has devastating effects for the sexual and reproductive health and rights of women and girls across the globe. The GGR (also known as the Mexico City Policy) was first introduced in 1984 under the presidency of Ronald Reagan. In January 2017, an expanded version was signed by President Donald Trump. Importantly, this latest version of the GGR applies to all global health funds provided by the US government (where previous versions were concerned with family planning funds). In effect, the GGR ensures that non-US organisations providing information, referrals for abortion, safe abortion services, and engaging in activism to improve abortion legislation, are banned from receiving US funds. Moreover, the latest version prevents organisations from using their own or other people's funds for these same purposes (SheDecides, 2018).
The detrimental effects of previous versions of the Global Gag Rule have been well documented including: prevention of access to contraception and safe abortions (for both women and girls) even in cases where rights of access are legally secured; hindered HIV prevention efforts, health clinics being forced into closure; obstructed access to health within rural communities; and the silencing of those who wish to speak out against laws that prevent women and girls from accessing safe and effective health care. The damaging impact the latest version of the GGR will also be considerable. In effect, organisations will be forced to choose between receiving funds from the US government (the largest funder of sexual and reproductive health programmes) and providing a full range of vital sexual and reproductive health programmes and services (SheDecides, 2018).
Initiated by the Dutch Minister, Lilianne Ploumen, SheDecides asserts that women of all ages should be able to safely exercise their right to decide what to do with their bodies. SheDecides unites those who believe that all women should have access to sexual and reproductive education and information, modern contraception, and safe abortion services, and should be able to pursue healthy, pleasurable sexual lives – free from judgement, stigma, coercion, and harm. On 2 March 2017, the first SheDecides conference was held in Brussels. More than 50 governments attended the conference, along with 450 participants including youth leaders, parliamentarians, representatives from UN agencies, NGOs, private foundations, and the private sector. This gathering enabled global leaders to raise their voices in support of the sexual and reproductive rights of women and girls, and pledge their commitment to the protection, provision, promotion, and enhancement of these rights (SheDecides, 2018).
One year later, various individuals and organisations from across the globe will mobilise on SheDecides Day (2 March 2018) in support of the principles of the SheDecides movement. Adding our support to this movement, the Critical Studies in Sexualities and Reproduction (CSSR) research unit will be hosting a panel discussion that will examine the impact of this policy within the South African context. In particular, discussion will explore the impact of the GGR for individual women, and civil society organizations working in the fields of sexuality, reproduction, and human rights in South Africa. Panellists will include Siviwe Mhlana (NALSU), Dumisa Sofika (CSSR), and Yanela Ndabula (CSSR). Discussion will be chaired by Catriona Macleod. We hope that activists, leaders, and supporters from the UCKAR and Grahamstown community will join us in this global day of action for the SheDecides movement, and encourage others to stand up, speak out, and take action to challenge those forces that would deny women and girls the right to make decisions that are theirs, and theirs alone.
References
SheDecides (2018). SheDecides Day 2018 Toolkit. Retrieved from https://static1.squarespace.com/static/592451f7bebafb37bd5faf00/t/5a79ddd324a6948cfd302c5b/1517936170497/SheDecides+Day+Toolkit+2018.pdf