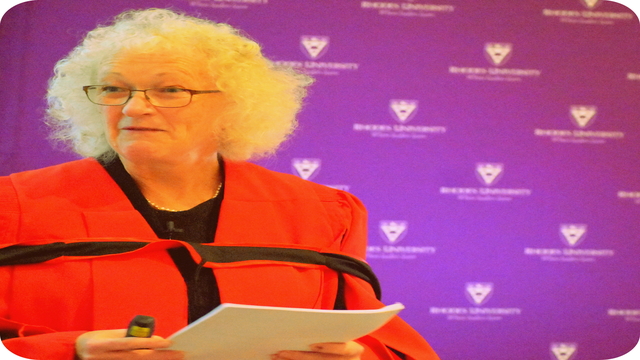 By Lelo Macheke
Professor Jacqueline Akhurst presented a thought-provoking Inaugural Lecture about the re-repositioning of community psychology (as a branch of psychology) as it is at the helm of change within the psychology profession and communities in South Africa and beyond last week.
Professor Akhurst is a psychology lecturer and post-studies supervisor at Rhodes University and a PhD in Psychotherapy. She maintains that her favourite areas of research are counselling and educational psychology.
Her lecture titled 'Community Psychology, Hopeless optimism or hopeful future' provided a flexible definition of community psychology; as a multi-disciplinary approach to engaging and solving problems that individuals of a certain context are experiencing.
"Community psychology provides a set of practices, frameworks and theories to account for the political, economic, social, cultural, historical and subjective conditions of those that benefit from community psychology. It also implies a responsibility on various aspects of society to be a part of the process effected by community psychology practices," explained Professor Akhurst.
Within the Grahamstown context, Professor Akhurst views community psychology as a way to respond to inequality and navigate the idea of historical redress from which inequality originates.
She cites the Nkosinathi Project established in 1997 in Kwa-Zulu Natal for re-orientation of the lives of famers and their descendants displaced materially and subjectively by the Apartheid regime and the failures of the democratic land policies.
The project successfully empowered locals with education, communication and labour-based skills. In turn, they gradually became a self-sustaining community that is educated, income generating and made up of healthy individuals, psychologically.
"The real success of the project is that it afforded the community to be in a position to lodge land claims. This project is an example of how community psychology is able to generate value-based wealth that exceeds monetary investments that fund community psychology empowerment initiatives," she said.
Professor Akhurst cited many other local case studies that convincingly support her view that community psychology is one of the most appropriate and necessary branches of psychology to utilise in post-1994 South Africa.
Community psychology's inclusive, adaptive and holistic nature allows it to navigate spaces, access people and demonstrate community psychology's ability to reproduce valuable members of society.
"It bridges the gaps created by the legacies of institutionalised inequality, creating a more just and functional society," she concluded.