Prof Macleod and Prof Vincent as co-researchers
This major project, started in 2003 by Prof Macleod, is ongoing. The broad aim of this research is to elucidate the range of discursive events (dynamic, contradictory and constantly reproduced) emerging in a variety of public statements (from written texts to public talk) of abortion in South Africa. Within this, the objectives were to examine:
How constructions of abortion have changed over time;
The power relations emanating from the complex process of the multiple constructions of abortion;
The range of culturally located taken-for-granted assumptions or absent traces that inhabit what is said, demonstrated, proved, hypothesised or illustrated about abortion;
The prescriptive effects of these constructions regarding how women and service providers should act, and the codifying effects of what can be known about abortion and its effects.
Much of the data has been collected, but more will be collected in the next three years. Some progress has been made in terms of the writing up this research (three articles have been published and two are in press), but a substantial number of articles can still be written. Seven Master's students have completed their theses in this area and two are ongoing. A book proposal based on the research is also envisaged. Write up of this book will take place over the next three years.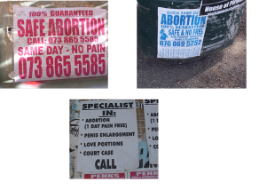 Last Modified: Tue, 17 Jul 2012 15:31:11 SAST