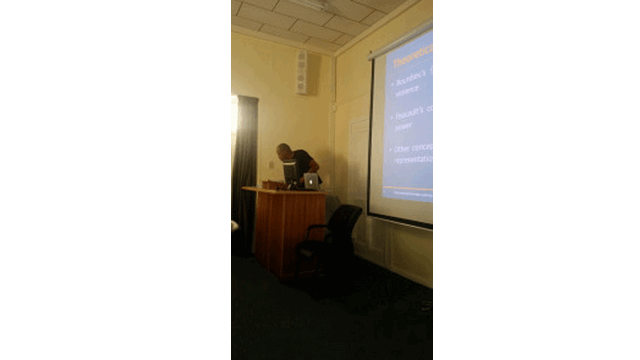 On Sunday 26 June, I travelled to Rhodes University (a name currently under immense transformational scrutiny) to attend the 23rd annual South Africa Sociological Association Congress. On Tuesday 28 June, I presented a paper titled [Re]-presenting knowledge: Critical reflections on the coverage of xenophobia research in the South African media, 2008 to 2013. The paper, based on my Honors work at MSU and ACMS received positive responses. The biggest loophole I identified is the need to advance a scholarship that understands the politics of re-presenting knowledge.
This formed a central part of the impetus for writing this paper, as this allowed me to critique various institutions and mechanisms of mediated power in fragmented societies. The paper came to the conclusion that there is a tendency by newspapers to report 'using' findings from the research institutions more than actually reporting 'on' findings. Many of these findings point to the positive benefits that foreign migrants may provide to the country. It argued that reporting merely 'using' findings and not 'on' them primarily is problematic as it often reinforces existing viewpoints, paradigms and discourses that portray foreign migrants negatively. In essence, journalists in the press under study only use these research findings to qualify their viewpoints on xenophobia, rather than to report 'objectively'. Consequently, a clear tension between discourses and knowledges of 'empirics' and 'popular perceptions'; that was evident in a majority of the analysed texts; emerges.
You can listen to my presentation through this podcast link: https://soundcloud.com/kedav/re-presenting-knowledge-critical-reflections-on-the-coverage-of-xenophobia-research-sa-media
I hope you enjoy it and provide feedback where necessary. Meanwhile, I will bask in the beautiful sunshine and Victorian lustre of Grahamstown as I await my trip back home.
Source: https://40000wordstogo.wordpress.com/2016/06/28/brief-reflections-on-my-presentation-at-sasa-2016/
Source: Word Press
Please help us to raise funds so that we can give all our students a chance to access online teaching and learning. Covid-19 has disrupted our students' education. Don't let the digital divide put their future at risk. Visit www.ru.ac.za/rucoronavirusgateway to donate