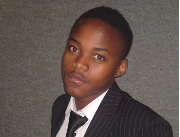 Tshitso Mini, A 20 year old honours student whose whereabouts are complicated. I was born in the small town of Mount Fletcher, just few kilometres from Matatiele. I'm currently living in Tsolo, a small town just 37km away from Mthatha.
I did my undergrad here at Rhodes Majoring in Legal Theory and General Sociology. I found Sociology interesting because it has a different way of studying the society, as compared to other disciplines.
I currently doing my honours in General Sociology and my research focus is on the Land use in the Post-apartheid Transkei. "After the end of apartheid, people were advocating for Land reform and redistribution programmes to be implemented. However, the Transkei area has had large arable land and now it has been abandoned, even in the rural areas where most people used to practice agriculture in order to sustain themselves and their families". My research then seeks to find out why is it that there are large areas of arable land that are not being used in the Transkei and also how this may have affected other areas of social life.
Last Modified: Thu, 05 Jun 2014 09:08:36 SAST