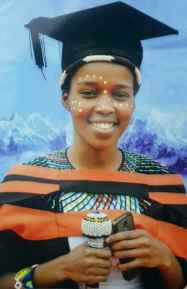 NTSHINGA THRONY
BA degree, BA Hons (Sociology), Peer Educator (Chairperson at UL), HIV Testing Services, Adherence Counselling for ART, GBV for Lay Counsellors, Disability Centre Librarian, Mentor and Tutor, Health and Illness MA candidate (HIV/AIDS studies).
Email: g18n2365@campus.ru.ac.za
Profile: Ntshinga is a current MA student in the department. Her research area is basically much on health and illness, much more in HIV and obesity studies. Generally, she is a very outspoken, adaptive and active person she knows, sport and gym are her wave calmers. Besides being an academic she is a poet too.
Last Modified: Thu, 26 Apr 2018 10:39:20 SAST