Dr Nicola Pallitt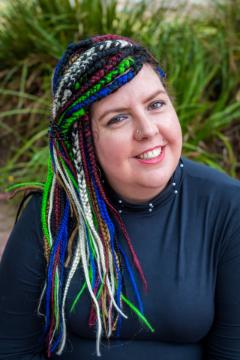 Senior Lecturer and Educational Technology Specialist
Nicola coordinates the efforts of the Educational Technology team. Working with colleagues, she offers professional development opportunities for academics to use learning technologies effectively in their roles as educators and provides learning design support and consultation in relation to teaching with technology (technology integration) and blended and online teaching and learning. Nicola is passionate about supporting lecturers to design innovative technology-mediated learning experiences for their students. She encourages the creation of online materials and opportunities to enable meaningful and memorable learning experiences. She also supervises postgraduate students and co-teaches on formal courses in Higher Education. Nicola's professional involvement in the field includes e/merge Africa (an online professional development network for educational technology researchers and practitioners based in African Higher Education of which she has been a core team member for a number of years) and the Association for Educational Communications and Technology (AECT) where she currently serves on the board of the Culture, Learning and Technology (CLT) division.
Nicola values contextually and culturally responsive approaches to learning design and educational technology usage. She seeks to expand critical perspectives on educational technologies in Higher Education and regularly contributes to collaborative research. Nicola's current research focuses on learning design and online professional development. Professionally, she has a strong interest in promoting inclusivity in the Educational Technology field and co-creating opportunities for practitioner-researchers working in African Higher Education settings.
Latest publications and relevant journal articles:
Networked Learning Editorial Collective (NLEC): Gourlay, L.; Rodríguez-Illera, J.L.; Barberà, E.; Bali, M.; Gachago, D.; Pallitt, N.; Jones, C.; Bayne, S.; Børsen Hansen, S.; Hrastinski, S.; Jaldemark, J.; Themelis, C.; Pischetola, M.; Dirckinck-Holmfeld, L.; Matthews, A.; Gulson, K.N.; Lee, K.; Bligh,B.; Thibaut, P.; Vermeulen,M.; Nijland, F.; Vrieling-Teunter, E.; Scott, H.; Thestrup, K.; Gislev, T.; Koole, M.; Cutajar, M.; Tickner, S.; Rothmüller, N.; Bozkurt, A.; Fawns, T.; Ross, J.; Schnaider, K.; Carvalho, L.; Green, J.K.; Hadžijusufović, M.; Hayes, S.; Czerniewicz, L. & Knox, J. 2021. Networked Learning in 2021: A Community Definition. Postdigital Science and Education, 3, 326–369. https://doi.org/10.1007/s42438-021-00222-y
Gachago, D., Pallitt, N., & Bali, M. 2020. No Size Fits All: Design Considerations for Networked Professional Development in Higher Education. Proceedings of the Networked Learning Conference. Denmark, online.
Belluigi, D., Czerniewicz, L., Khoo, S., Algers, A., Buckley, LA., Prinsloo, P., Mgqwashu, E., Camps, C., Brink, C., Marx, R., Wissing, G., & Pallitt, N. 2020. "Needs Must"? Critical reflections on the implications of the Covid19 'pivot online' for equity in higher education. Digital Culture and Education.
Czerniewicz, L.; Agherdien, N.; Badenhorst, J.; Belluigi, D.; Chambers, T.; Chili, M.; de Villiers, M.; Felix, A.; Gachago, D.; Gokhale, C.; Ivala, E.; Kramm, N.; Madiba, M.; Mistri, G.; Mgqwashu, E.; Pallitt, N.; Prinsloo, P.; Solomon, S.; Strydom, S.; Swanepoel, M.; Waghid, F. & Wissing, G. 2020. A Wake-Up Call: Equity, Inequality and Covid-19 Emergency Remote Teaching and Learning. Postdigital Science and Education.
Romero-Hall, E.; Correia, A.P.; Branch, R.; Cevik, Y.D.; Dickson-Deane, C.; Chen, B.; Liu, J.C.; Tang, H.; Vasconcelos, L.; Pallitt, N. & Thankachan, B. 2020. Futurama: Learning Design and Technology Research Methods. Research Methods in Learning Design and Technology. Ed. Enilda Romero-Hall. New York: Routledge.
Winberg, C.; Adendorff, H.; Bozalek, V.; Conana, H.; Pallitt, N.; Wolff, K.; Olsson, T. & Roxå, T. 2019. Learning to teach STEM disciplines in higher education: a critical review of the literature, Teaching in Higher Education, 24 (8), DOI: 10.1080/13562517.2018.1517735
Pallitt, N., Carr, T., Pedersen, J., Gunness, S. & Dooga, J. 2018. Learning Design in African Higher Education. 13th International Conference on e-Learning (ICEL), 5 - 6th July 2018, Cape Town, South Africa. (pre-print)
Winberg, C.; Bozalek, V.; Conana, H.; Wright, J.; Wolff, K.; Pallitt, N. & Adendorff, H. 2018. Critical interdisciplinary dialogues: Towards a pedagogy of well-being in STEM disciplines and fields. South African Journal of Higher Education, 32(6): 270‒287.

Winberg, C. & Pallitt, N. 2016. "I am trying to practice good teaching": Reconceptualizing e-portfolios for professional development in vocational higher education. British Journal of Educational Technology, 47(3): 543–553.

Last Modified: Mon, 24 Jan 2022 11:39:56 SAST