Dr Roxana Chiappa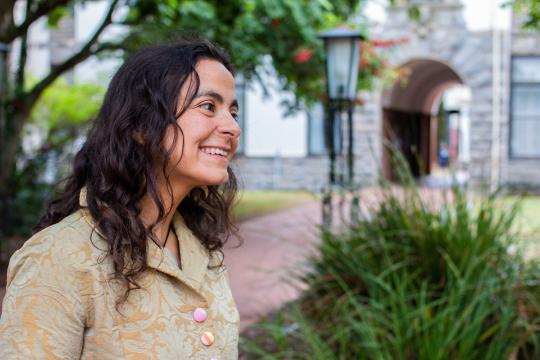 Lecturer/ Associated Researcher
ORCID number 0000-0002-3523-1197
Roxana´s research and teaching agenda touches upon the question of how historical and structural inequalities get reproduced in the scientific and higher education systems among countries, higher education institutions, and societal groups.
She teaches various modules about teaching and learning in higher education, social justice, and decolonial theories in both higher education postgraduate diploma and doctoral program. Roxana also facilitates a weekly mindfulness workshop for Rhodes postgraduate students and academics.
In recent weeks, Roxana is spending most of her time on a research project that seeks to elucidate how Chilean academic elites in different disciplinary fields facilitate the entrance of individuals coming from historically underrepresented backgrounds in the academic profession (more about the project here). A component of this project includes the South African case.
Roxana centers her work on three principles -humility, scepticism, and care-. Roxana believes that we -academics who are in position of being heard and sharing messages with students, other researchers, policy makers, and a broad audience- need to acknowledge with humility what we do not know and how the colonial violence has shaped research agendas, pedagogical activities and our inner selves. She invites scepticism and criticism to her work to genuinely welcome and explore new ideas (there is no single theory/method superior to others). At the center of Roxana´s work is care for her students, colleagues and for the living creatures (humans and other species) affected by her praxis.
Latest publications and relevant journal articles:
Chiappa, R. & Finardi, K. (2021). Coloniality Prints in Internationalization of Higher Education: The Case of Brazilian and Chilean International Scholarships, Scholarship of Teaching and Learning in the South. 5(1): 25-45. DOI: 10.36615/sotls.v5i1.161.
Chiappa, R. (2020). Seeking Faculty Jobs: Exploring the Relationship between Social Class of Origin and Hiring Networks in Chilean Academia. Calidad de la Educación, 52, 205-238, 10.31619/caledu.n52.760
Chiappa, R. & Nerad, M. (2020). Socialization of Doctoral Students. The SAGE Encyclopedia of Higher Education (p. 392-395), Thousand Oaks: SAGE http://dx.doi.org/10.4135/9781529714395.n154
Chiappa, R. & Perez, P. (2019). Unfolding the Effects of Social Class of Origin and Prestige of PhD-granting University on Faculty Earnings. Higher Education, 10.1007/s10734-019-0356-4
Pérez Mejías, P., Chiappa, R., & Guzmán-Valenzuela, C. (2018). Privileging the Privileged: The Effects of International University Rankings on a Chilean Fellowship Program for Graduate Studies Abroad, Social Sciences, MDPI, Open Access Journal, 7(12), 1-24, https://doi.org/10.3390/socsci7120243
Last Modified: Fri, 29 Oct 2021 12:45:53 SAST