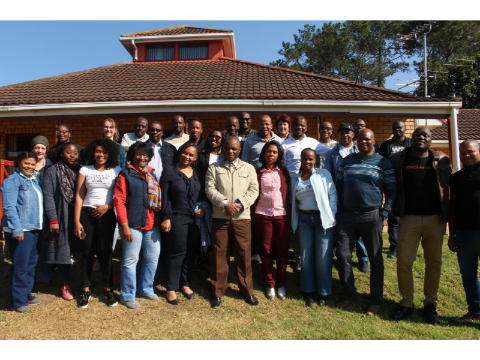 By Student Reporter
Friday, 16 August 2019 marked the last of CHERTL's Postgraduate Diploma in Higher Education (PGDip (HE)) block contact sessions of the course for this year. The PGDip (HE) is a two-year, accredited programme, designed to facilitate the professional development of lecturers by developing their knowledge of Higher Education as a field of study. The programme specifically aims to enhance participants' competence in teaching, assessing and evaluating student learning. The PGDip (HE) course is offered to both academic professionals teaching at Rhodes University and to academics from higher education institutions across the country. All staff members at CHERTL as well as CHERTL Associates, Professor Arthur Webb and Dr Carol Thomson, teach on the course.
The course participants from the national cohort gave positive feedback of the PGDip (HE) course, and the support they received from CHERTL's staff over the past two years. Engineering lecturer at the University of Mpumalanga (UMP), Mr Benard Chirende, said that the PGDip (HE) course exceeded his expectations and guided his transition to higher education from a 15-year long career in engineering practice. He was able to implement what he has learnt and, in doing so, added value to his lectures. His colleague, Dr Eureka Jansen van Vuuren, Senior Lecturer in the Bachelor of Education programme at the Siyabuswa campus said that the course had changed her entire thinking on curriculum, teaching and learning, but especially her understanding of assessment and evaluation. She also expressed gratitude to CHERTL staff for their encouragement in conducting peer evaluation in her work.
Mr Songezo Jokwana, a fashion lecturer at the Walter Sisulu University's Butterworth campus, expressed his excitement at returning to his institution with new strategies to apply to his teaching. Joined by colleague Mr Mkhuseli Mzimpomposhe, the pair also expressed their appreciation for learning about constructive alignment between how lecturers teach, assess and evaluate their teaching and learning practices. Mzimpomposhe also appreciated learning about peer evaluation; something he admits was new to him before his enrolment to the course.
Dr Shai Elliot Nkoana, Senior Lecturer in Psychology at the University of Limpopo, commended CHERTL for the professionalism of its programme offerings and said that the PGDip (HE) offered an evidence-based grounding on how lecturers can improve their teaching. He added that the programme teaches better and efficient ways of student support, something which lecturers can only offer once they understand how students learn:
"The PGDip has not disappointed in that regard. I feel much empowered that my teaching will have value because the experience of my students will be something that is worthwhile for them and for me as a professional. It developed me as an academic and I hope to build on this experience".
The national cohort is now tasked to draw on what they have learnt during the course to compile a summative teaching portfolio which demonstrates their critical reflection on their teaching practice. Upon successful completion of the course, participants will graduate in April in 2020.