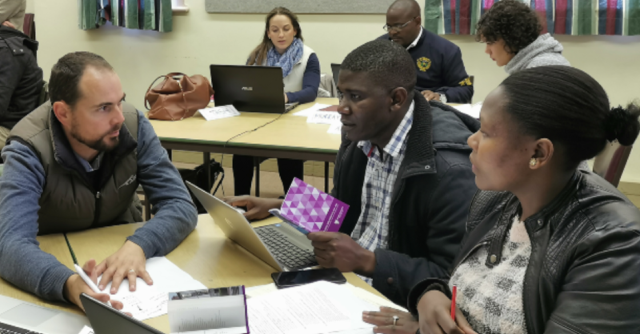 By Student Reporter
This week a number of Rhodes academics have been attending two courses offered by CHERTL staff. The courses which focus on curriculum development and assessment respectively are modules of the Postgraduate Diploma Higher Education. The Conversations about Teaching and Learning and Assessment (CATALyst) course is offered twice a year and can also be undertaken as a short course.
The CATALyst course and the PGDip are designed to provide a space for academics to critically reflect on and to enhance their curriculum, teaching, and assessment practices in order to meet the legitimate learning needs of all the students in their classes. It is also designed to support lecturers new to Rhodes or applying for promotion to meet the requirements for confirmation of tenure and promotion.
CATALyst course participants spoke of the benefits the course has had on their teaching, with academic and lecturer in the Maths Department, Dr. Chris Stevens, saying that he is definitely planning to use new ways of assessment in his classes. The Faculty of Education's Chrispin Muthano said that the CATALyst course "added a deep layer" to his prior knowledge of teaching and assessment. Muthano further said that the course inspires innovation in one's teaching practice, which he believes lecturers often lack.
Ben Smit of the Zoology and Entomology Department expressed his wish to see every teacher – professor or starting lecturer – enrol for the course, highlighting that much of what academics think works is not meeting the outcomes of their courses. Smit, together with History lecturer, Janeke Thumbran, said that lecturers could do a lot more to enhance students' experience of learning with the knowledge of the appropriate tools and 'tried and tested' methods of engagement. Thumbran emphasised that the assessment techniques she learnt on the course are valid, and fair assessment methods to ensure that she sets assignments and tests to gauge whether students achieve what is expected from them.
The CATALyst course ran concurrently with the Curriculum Development in Higher Education module, which too forms part of CHERTL's PG Dip (HE) modules. Curriculum development gives participants a theoretical understanding of the different approaches to curriculum development in higher education and equips them with the skills to design and interpretation curricula. A lecturer on the course noted that the course was an eye opener for her and that insights she gained from the course have transformed her as an emerging academic. She noted that she learned that she "can actually design a new module which addresses a particular concept that the students struggle with perennially".
Contact sessions for the CATALyst and Curriculum Development courses are run over a week twice a year during the May and September holiday periods.