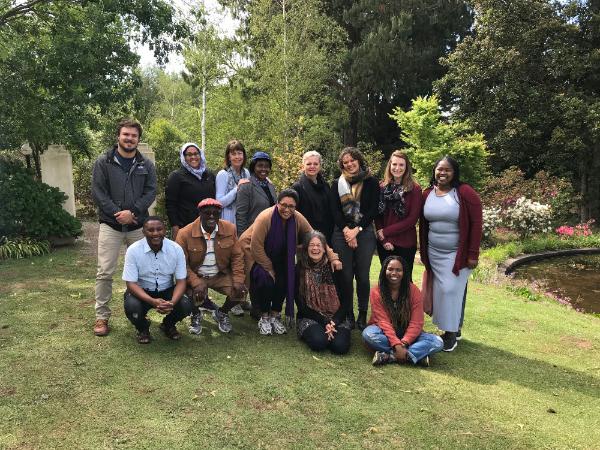 CHERTL once again organised a writing retreat for 13 lecturers, all working on writing-related to teaching and learning such as Scholarship of Teaching and Learning publications, teaching portfolios, CATALyst assignments or PhDs. CHERTL writing retreats are funded through the Department of Higher Education and Training University Capacity Development Grant. Writing retreats offer academics space away from the office and their daily responsibilities to devote to writing.
The Retreat was held in the tranquil and beautiful setting of The Edge at Hogsback. Despite the drought, the azaleas and blossoms were in full bloom and the group enjoyed rejuvenating walks after each day spent hard at work on their writing. All the participants feel they made considerable progress with their writing projects and appreciated the opportunity away from their busy lives to focus on their writing. An added bonus of spending time away with colleagues are the conversations during mealtimes to get to know lecturers working in other departments and to learn about how others experience the university, how they approach teaching and how they cope with the joys and stresses of being an academic at Rhodes University. When asked to reflect on the writing retreat, participants had this to say:
"The space to simply get your head into writing without having to worry about anything else. Leaving all responsibilities at the door and having the ability to focus. Being around other people who are working on similar pieces is also great because listening to each other, we are able to bounce ideas off each other and learn and appreciate what we bring to the table at this university. The atmosphere is extremely conducive to writing and you don't want to be left behind. I love the casual yet working atmosphere that I find myself in here as well. Having Jo-Anne and Lynn around to help with direction and structure on the writing pieces is also great. These retreats are amazing to get work done. I know that I would not have been able to complete even a page of writing had I not been here".
"No interruptions, focus, everyone else writing and being able to keep focus"
"The full days of writing were very useful. I also really appreciated being able to work in whatever space I feel comfortable. I work well independently so I appreciated being left alone to do this".
"The time to write and reflect on my work. I also found the feedback from CHERLT staff very useful".
"The time to write and reflect on my work. I also found the feedback from CHERLT staff very useful.
The designated writing spaces as well as the morning meetings. The morning feedback sessions really helped because the sessions enabled us to reflect on our progress. This is also served as an opportunity to learn from others and to identify any gaps or shortcomings in our respective writing processes".
"The space and time to think through things and write, the magnificent surroundings which were calming and inspiring, and the collegiality among the colleagues who attended".
"I always find the guidance and feedback from Lynn and Jo-Anne to be incredibly useful. Having them available to chat to is also invaluable to making progress. I felt that having time away from the office and distractions always gives me a boost to make progress in my writing. Further being allowed the space to write where we felt most comfortable".
"The space that allowed me to work in an environment that writing conducive without the distractions one normally has when working from campus. Also, the ability to just purely focus on writing with peers who had similar goals was motivating unlike when one is writing alone".