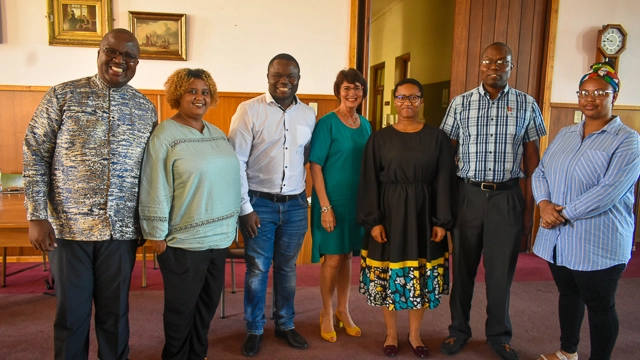 By Bukamuso Sebata
Investec recently hosted a welcome event for first-year students of Rhodes University's Commerce Extended Studies Programme (ESP). Representing Investec were Mr Setlogane Manchidi, the Investec Head of Corporate Social Investment (CSI), and Mrs Thembiso Kodisang, an Investec CSI Practitioner. The Acting Dean of Commerce, Professor Lynette Louw, also attended the welcome event.
There is a long-standing relationship between Investec and Rhodes University, where Investec has consistently uplifted and assisted students.
Their first gift to the University was R150 000 in 2009, an amount that has steadily increased in value while its distribution has grown in scope. Investec's most recent financial contribution of R 790 214 included student financial aid and research funding.
The focus of Manchidi's speech to the first-years' was that of "hope for a better tomorrow". To achieve this, he briefly reflected on his life story to "evoke a sense of belief" that a better tomorrow was possible for everyone. He grew up in a dusty rural area in Limpopo, where he lived in a muddy structure comprising three rooms he called home. Like his grandmother and her other four daughters, his mother was a domestic worker.
Manchidi told this story because he said he is unashamed of where he comes from and wants to remind first-years that no one should ever be ashamed of their background. "We are not responsible for where we come from, nor did we choose it," he stated.
In his speech, Manchidi powerfully touched on the dangers of peer pressure and how choosing the wrong friends can destroy you. He said, "Choose the right friends, surround yourself with visionaries, surround yourself with people who will propel you forward, surround yourself with people who will push you."
Prof Louw concurred with this notion, stating, "As an ethical leader, you will make important decisions that impact the lives of others. Remember: the choice is yours. Who do you want to benefit - others or yourself? South Africa and the world are in dire need of ethical leaders concerned about the well-being of others and the planet's sustainability."
Manchidi warned the students about keeping company with people who aim for mediocrity and believe that an introductory 50 % pass mark is sufficient. "When you only know 50% of your work, you are only half of something," he said. "The best way to survive university is to surround yourself with friends who reflect who you are, who you want to be, and what you want to achieve."
Another powerful piece of advice Manchidi shared had to do with self-value. He took a R100 note and tore it up in front of the students, who protested loudly. "You are reacting this way because of the value people attach to money," he said. "So, I want you to think of yourself as this note. The passion you just showed in defending the note should be the same passion you have for your own value."
"We go through trials and tribulations, we go through difficulties, but very often, we forget the true value within each of us," he added.
The relationship between Investec and the Commerce ESP goes back almost a decade. The ESP initiative offers its students extra tutoring, mentoring, and rewards for academic achievement. While the Faculty of Commerce runs this initiative, Investec has provided ad hoc support over the years to "ensure the effective running of this programme", as Manchidi explained.
Students stay in the programme for two years before entering their mainstream degrees.
"At the heart of the programme, youngsters have come from different backgrounds, and many of their backgrounds have failed them, either academically or otherwise. Therefore, they have very little chance of graduating with a degree without intervention," stated Manchidi. "We are so happy that through this programme, we have given people an opportunity they otherwise wouldn't have, and we've given them the support that ensures they have a fair chance to succeed."
Professor Louw reminded the students, "As our future leaders, you should be concerned about the social, economic and environmental sustainability of the South African economy, its organisations and the well-being of society. With sustainability comes the responsibility of ethical leadership."