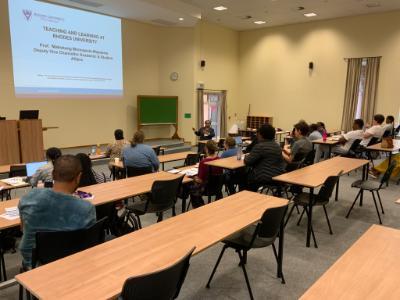 Rhodes > Teaching and Learning > Latest News
Rhodes welcomes new academics
Date Released:
Thu, 9 February 2023 15:51 +0200
By Anthea Adams
New academic staff members lauded Rhodes University for its "informative and very accessible" Academic Orientation programme (AOP), which was held from 23 until 27 January in the Education Department on St Peter's Campus. Hosted by the Centre for Higher Education Research, Teaching and Learning (CHERTL), AOP introduced more than twenty colleagues to key people in the University, such as the VC, DVCs, Deans, Directors of Postgraduate Studies, Student Affairs, Community Engagement and the Library. Colleagues were beaming with pride to join an institution with a stellar reputation, where the University leadership has an open-door policy and where AOP "makes a new academic feel welcome and builds confidence."
Gaining first-hand information about "university structures, policies, and stakeholders" was a bonus! "What I found to be most beneficial is that I now have a better idea of who handles what at Rhodes, and whom I need to approach for further assistance in each field."
The VC, Prof Sizwe Mabizela encouraged colleagues to identify the synergy between various aspects of their academic role and the Institutional Development Plan (IDP), reaffirming Rhodes as a leading research university that prioritises teaching and learning. A session called "Things I wish I knew" proved invaluable as outstanding colleagues from various departments reminisced about the joys and challenges in their own journeys to ensure a work-life balance. In a similar vein, recipients of the VC's Distinguished Awards for teaching (Dr Ntethelo Sibiya), research (Assoc Profs Iain Paterson and Philani Mashazi) and community engagement (Prof Rod Walker) inspired colleagues to follow suit in having an interrelated approach to the academic project, their interests and passion for making a difference.
"They gave me so many ideas on how I might further these aspects of my own career at Rhodes."
Novice and more experienced academics equally enjoyed the afternoon sessions during AOP, which introduced lecturers to key ideas and practices related to teaching and learning.
"I enjoyed the sessions as they were interactive in nature. We had the opportunity to share with colleagues our teaching style and assessment methods. It was really helpful to understand how teaching and learning takes place in different disciplines."
From 30 January until 1 February, CHERTL's renowned EdTech team, Nicola Pallitt, Neil Kramm and Edward Domboka introduced new colleagues to RUconnected, the institutional Learning Management System. Activities included getting started as a teacher, communication and assessment, getting feedback from students using the online platform and classroom engagement tools such as Wooclap. CHERTL's acting HoD, Dr Mandy Hlengwa, congratulated her team for their commitment to ensuring a successful and meaningful AOP.
Source:CHERTL