Biotechnology Communication & Public Engagement
We believe that science communication and public engagement forms a key component in the training of postgraduate students. Science communication is as much about engaging the public as it is about the public engaging students and academics about their expectations of science. We also believe that effective science communication training helps our students situate what they do in their research in the real world.
Activities
Training postgraduates in science and biotechnology communication through writing skills. (Students frequently publish their work at online science magazines and newsletters such as www.scienceinafrica.com and at www.npep.org.za . Many also assist in drawing up fact sheets for the public).
Engaging postgraduate students in public engagement activities (hands on workshops and demonstrations and dialogue sessions).
Establishment of a MSc course through the School of Journalism in science journalism and communication.
Establishment of short courses for journalists in science communication.
More information
Prof Janice Limson j.limson@ru.ac.za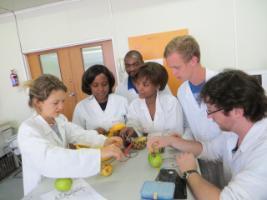 Last Modified: Tue, 14 Jan 2020 11:10:44 SAST