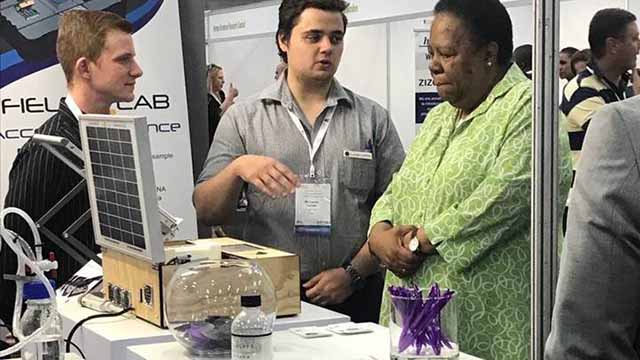 In a first-ever public launch of technologies developed by the Rhodes University Biotechnology Innovation Centre, a student prototype beat over 300 innovations at the national Innovation Bridge Showcase and bagged R50 000 in prize money for Best Prototype: Fieldlab.
Fieldlab is a solar-powered mobile lab-in-a-box, the brainchild of Charles Faul and Lucas Lotter who are both completing their Masters Degrees in Biotechnology. The mobile lab is set to break new ground in field-testing for viruses and bacteria, particularly in remote areas. The prototype gives scientists access to tools that can identify a viral outbreak on the spot.
Rhodes entered three prototypes, displaying alongside entries from all South African universities and several small startup companies. The Innovation Bridge is billed as South Africa's Technology Showcase and Matchmaking Event that brings scientists' prototypes to government and investors. It is an initiative of the Department of Science and Technology (DST) and was held at Gallagher Convention Centre on 15 September 2017.
The second Rhodes prototype, Amyoli, is a low-cost purification system to treat water at point-of-use, removing bacteria and metals. The system is designed
by a research assistant with a Masters of Science in Biotechnology, Aphiwe Mfuku.
The third, G-WaterTech, led by Dr Roman Tandlich, is a prototype that treats domestic greywater making it safe for re-use in irrigation.
Minister of Science and Technology, Naledi Pandor, visited the Rhodes booth ahead of the prize giving ceremony and encouraged the three teams to continue inventing social-based solutions through technology.
"She was interested to hear about our future development goals especially with this prototype. She also urged us to approach the technology innovation agency for funding," said Faul.
Professor Janice Limson, DST/NRF SARChI in Biotechnology Innovation and Engagement at Rhodes University, led the award-winning team of Rhodes Biotechnology scientists and students.
"This technology showcase has been the culmination of a lot of hard work and ingenuity from our students and staff. It has put Rhodes Biotechnology firmly on the entrepreneurship map," she enthused. "Our next step is to find space on the Rhodes University campus where we can translate these and other prototypes into products."
The Fieldlab is currently under production and the team aims for this to be available commercially by 2018.
The three Prototypes
1. FieldLab, a lab in a box – medical diagnostics kit
FieldLab is a low-cost lab-in-a-box that provides commonly used molecular biology technologies for use in the field. It combines a microscope, centrifuge, PCR thermocycler and a visualisation system together with solar power to operate this machinery. The system allows medical professionals working in the field to access the equipment found in fully-equipped medical diagnostic laboratories. Its high-powered light microscope can visually diagnose malaria. The rugged system optimises workflow and allows for rough transportation without damaging the equipment. This would make it ideal for disaster areas, remote areas throughout Africa and even conflict zones.
2. Amyoli, Nanofibres for water treatment at point of use
Amyoli is a low-cost process that allows for decontamination of drinking water in just a few minutes at the point of use. The method involves inactivation of bacteria, using active molecules embedded on electrospun polymer supports. These micro- and nano-fibre supports also serve to passively trap contaminants, while improving access of the molecules to facilitate water treatment. The system can be readily integrated into remote water access points and into both existing homes and new urban housing developments.
3. G-Water Tower: Grey water treatment and low-cost coliform detection kit
This ingenious device treats and recycles domestic grey water using a combination of waste products and alien vegetation. It operates in conjunction with a low-cost kit for detecting water contamination. The system, known as the fly-ash lime filter tower is comprised of a series of different layers, which, when placed in a low-cost container with an inlet and outlet pipe serves to sterilize domestic greywater for further use. Water scarcity in South Africa is an enduring concern and with climate change, the development of systems that can recycle water for use in other ways is key to water security.