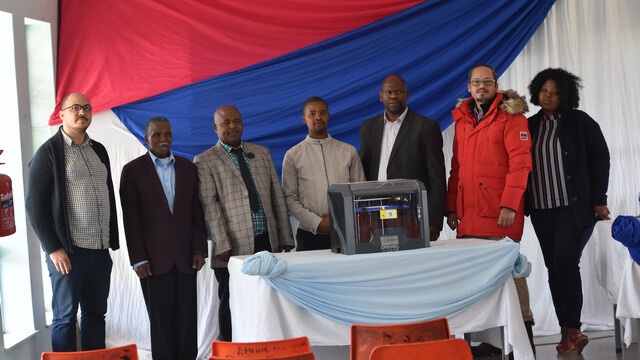 Rhodes University lab technical officer, Luyolo Mapekula (Department of Biochemistry & Microbiology), and Biotechnology Innovation Centre (RUBIC) Head of Department, Dr Earl Prinsloo, were instrumental in securing a 3D printer donation to DD Siwisa Primary School as part of the General Electric (GE) Additive Education Program.
The GE Additive Education Program is for primary and secondary schools and DD Siwisa was chosen as a beneficiary from an impressive applicant pool of over 3 000 schools from 41 countries. Six hundred printers were disbursed globally.
"It is the first time a printer of this calibre has been presented to a public school in South Africa," Mapekula stated.
Mapekula is no stranger to community outreach. His involvement in the Masiphumelele Family Support Centre (MFSC) programme, which focuses on skills and community development, recently earned Mapekula recognition as one of The Daily Dispatch/Johnson & Johnson's Top 12 Local Heroes for 2018.
Since joining the MFSC in 2016, he introduced a tutoring programme for Grade 7 to 12 learners to help them increase their mathematics and physical science marks. Part of the programme involves writing isiXhosa study guides, which Mapekula distributes to underprivileged schools free-of-charge.
"We are excited to receive the 3D printing unit, so that Luyolo and his tutoring programme can expand," explained Dr Prinsloo, who assisted Mapekula and DD Siwisa with their application for the GE Additive Global Education Program.
The new Rhodes University Institutional Development Plan has positioned the University as an institution for public good in local, provincial, national and international contexts, to which Dr Prinsloo and Mapukela's role in the 3D printer acquisition is testament.
DD Siwisa Principal, Zolani Gosani, who spoke at the launch, said, "This school is embracing such programmes because we have committed ourselves to making this school a school of choice. Most people don't even know there is a place called 'Extension 6'. By engaging in such programmes, we hope that each and every citizen not only in this town, but in the province, will come to know that there is a school in Extension 6 called DD Siwisa. And remember, you are all welcome here."
The printer will be used by various schools in Grahamstown to benefit education and development. "Although the printer will be housed at DD Siwisa, it is not exclusively for the use of this school. We encourage all the other Grahamstown schools, particularly those in the locations, to come and see what this remarkable piece of equipment is capable of," Mapekula said at the launch.
Mapekula and MFSC are also involved in the Egazini Art Centre, where community artists use clay as a basis to craft items. "One of the goals of us obtaining this 3D printer is to combine art skills development with technology skills development, and the GE Additive Education Program will enable us to do so," he explained.
Rhodes University is the biggest skills development partner in this initiative. The RUBIC MakerLab, a 3D printing makerspace, which is based at RUBIC, has partnered with the MSFC and will be providing training to its members, school educators and learners on how to design and make physical objects using freely available computer-aided design software. These objects will include mathematical learning tools and biological models that support the established Department of Basic Education curriculum. "The 3D printers translate the computer based "blueprints" into physical objects. These blueprints, designed at DD Siwisa, will be available for other schools locally and globally through the Polar Cloud," explained Dr Prinsloo. The Polar Cloud (https://polar3d.com) is part of the GE Additive Education Program.
DD Siwisa's Program GE Additive Education Program Polar Cloud Classroom Package includes a premium Polar Cloud account, a Dremel Digilab 3D45 high performance 3D printer, filament material for the printer, and a maker curriculum/lesson plans for STEAMtrax, Makers Empire, Tinkercad and BlocksCAD.
General Electric has committed to investing $10 million over the next five years in educational programmes to develop future talent in additive manufacturing.