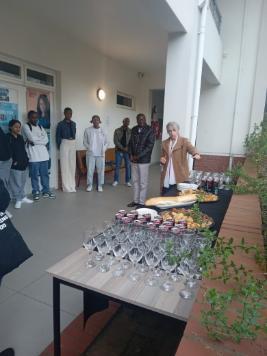 Photo by Paul Ledin
On 17 July, French & Francophone Studies organised a vibrant celebration in honour of the French National day (14 July), widely known as "Bastille Day". The event kicked off with an enlightening speech delivered by Madame Cordell, who passionately emphasised the significance of bread in French culture, stating that "bread is holy to the French". She proceeded to share fascinating facts about French bread, including the prestigious addition of the iconic "baguette" to the UNESCO list of heritage foods.
As the festivities continued, the atmosphere grew even more enchanting with the recital of the heartfelt poem "la tranche de pain" (the slice of bread) composed by Maurice Carême. The poem artfully depicts a heart-warming scene where a lone child generously shares a piece of bread with his loyal canine companion, symbolising the deep-rooted importance of bread in French culture.
The celebrations reached a moment of conviviality and camaraderie when Professor Arthur Mukenge offered a toast to the joyous occasion. Glasses were raised high in unison as the students jubilantly proclaimed, "Vive la France" (long live France). The joyous atmosphere set the stage for the students to enjoy the food while engaging in lively discussions about the historical significance of the 14th of July.
Zimkhita, one of the participants, shared her insights on the celebration's importance, noting that it commemorates a pivotal moment in human history when the Declaration of Human Rights was penned. The conversation flowed effortlessly as everyone exchanged their thoughts and reflections on the profound impact of this historic day.
The event was not merely a celebration of French heritage, but also an occasion for cultural exchange and appreciation of human rights. As the evening drew to a close, the spirit of unity and reverence lingered, reminding everyone of the timeless importance of commemorating historical milestones and cherishing the traditions that shape our collective identities. The celebration had successfully captured the essence of "Bastille Day" while fostering an enduring sense of camaraderie among the students and staff of French & Francophone Studies.
By Urielle Kayumba
Last Modified: Mon, 24 Jul 2023 16:52:25 SAST