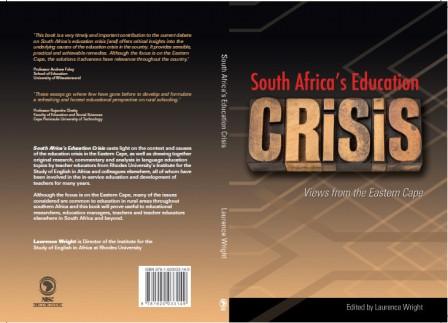 South Africa's Education Crisis: Views from the Eastern Cape was launched during the Eastern Cape English Educators' Association biennial conference held at Rhodes at the end of June.
The event gathered together conference delegates, members of the Rhodes Education Faculty, teachers currently on the BEd in-service course for English teachers run by the Institute, and past students.
The publication draws on fresh research, commentary and analysis by researchers associated with the Institute for the Study of English in Africa (ISEA).
Devised as a means of enhancing national debate on the failures and conflicts within the Eastern Cape education system and elsewhere, as well as urging solutions and interventions which teachers themselves can effect to make the changes needed at grass roots level, the book was edited by ISEA Director Professor Laurence Wright, and contains chapters by Prof Wright and other ISEA staff members, including Alan Macintosh Research Fellow Dr Monica Hendricks, and research officers Ntombekhaya Fulani and Madeyandile Mbelani.
Prof Wright baldly stated the situation facing education in the Eastern Cape, and indeed countrywide, in the latest English Educators Association newsletter.
"This is," he said, "where South African people come face to face with their own character, and their willingness to work together to construct a progressive, non-racial, non-sexist democracy that has the capacities and skills to create a more equal and better resourced society."
According to Professor Wright, the state of our education system indicates that South Africa is currently failing to meet this challenge. The new book affirms that the main reason for the crisis is failure to place teacher education and development at the centre of South Africa's efforts to transform education.
The ISEA has been training teachers in the Eastern Cape, through the ACE and BEd in-service programmes, for many years now, and in this time both the educators and the staff of ISEA have seen first-hand many of the problems bedevilling schools, teachers and learners.
The inspiration for a book of this nature came from the desire not only to expose the failings but also to praise good work which is being done in a difficult and badly-managed arena.
Presented in Chapter 3 of the book, an eye-opening interview with Dr Frank Peters, retired Director for ECD and GET Curriculum Programmes with the Eastern Cape Education Department, brings into focus many behind-the-scenes management issues which keep standards below par.
The book contains chapters on the origins of the crisis in the Eastern Cape, looking at problems of power and corruption within local government; on visual literacy in rural schools; on rural teachers' reading and their social imagination; on learning Science in the rural context, and the challenges of language textbooks in the context of equal education.
In addition, a chapter on lessons from Classroom Observation is included and the book ends with a chapter by Prof Wright entitled Teachers as Heroes, which encourages society, education departments and teachers themselves to understand their full value "for the benefit of themselves, their learners and the civilisation in which we live."
By Jeannie Mckeown
Picture Supplied
Source:
Please help us to raise funds so that we can give all our students a chance to access online teaching and learning. Covid-19 has disrupted our students' education. Don't let the digital divide put their future at risk. Visit www.ru.ac.za/rucoronavirusgateway to donate