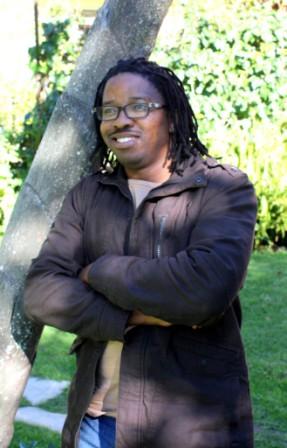 Among the established writers participating in this year's Masters in Creative Writing course is well-known literary critic, journalist and poet, Sabata-mpho Mokae. "Writing poetry is a kind of shift, a migration," says the eloquent Mokae, who has launched two works this year: a poetry anthology in English and a Setswana novel.
"Poetry is the most difficult literary form," he says. "Everything you know goes into writing a good poem." Escaping Trauma was launched on Africa Day (25 May) in Kimberley and encompasses 10 years of his poetic output, the majority of which has been published in various South African journals and anthologies.
"I chose this title because it carries the spirit of attempting to escape the harsh realities of daily life," he says. "In a world warped by criminal violence and HIV I try to focus on just one beautiful thing, like the painting on the wall of a shack."
A prominent theme of the 50 poems in the collection is his love of music and literature, with dedications to Hugh Masekela, Lebo Mathosa and others. "Paying tribute to their art acknowledges their contribution to the advancement of broader humanity."
He also wrote Sol Plaatje's biography titled The Story of Sol T Plaatje in 2010. Realising that there were six existing biographies already written about the great writer, Mokae's intention was to introduce Plaatje's life and work to the ordinary person, but still keeping it interesting for researchers, academics and "politicians, who can think," he adds, with a twinkle in his eye.
He took three weeks to write the first draft, with an additional four months to complete it. A fellow Plaatje scholar, Dr Deborah Seddon of the Rhodes English department, was the editor and Deputy President Kgalema Motlanthe wrote the foreword.
His Setswana novel, Ga ke Mo disa (which translates as 'I'm not his keeper') was launched at the Polokwane Literary Festival , the first of its kind in the Limpopo province on 28 July. "Zooming into local politics," he describes it as a post-apartheid story of Cain and Abel where a young journalist is faced with exposing the corruption within the municipality where his older brother serves as mayor.
Mokae grew up in the North West and now lives in Northern Cape. The North West and Northern Cape departments of Sport, Arts and Culture (DSAC) have been very supportive of his work and have committed to purchasing 400 copies of both his latest works for 120 libraries in both the North West and Northern Cape libraries.
Two projects close to his heart, the Northern Cape Writers' Festival and the Sol Plaatje Literary Festival, which was launched in Mafikeng this year, go a long way in boosting local writers. He also hopes to get involved with the creative writing programme of a new university opening in Kimberley in 2014.
Working towards completing his Masters part-time over two years, he says he enjoys being granted "the rare opportunity to receive feedback and critique from established writers". He approaches this process with a mixture of zeal and humility, saying he is currently working on the manuscript for an English novel, which his fellow Masters students and teachers are "tearing apart to give it shape".
He urges all writers to welcome honest, informed criticism. "Writers should embrace criticism as you can mediate the intention of what is being said. It's more valuable than a review of one's work."
"If you allow yourself to be vulnerable, you grow as you write," he says, adding that he hopes to have published 10 books by the time he's 50. "It's a humble plan, but for me writing is non-negotiable. As long as I'm alive, I'll be writing."
Mokae is based in Kimberley and received a South African Literary Award, for literary journalism, in 2011. Among other pursuits, he spent six years as resident book reviewer on Kaya FM, where he interviewed many writers including Zakes Mda, the late K Sello Duiker and Niq Mhlongo as well as encouraging his listeners to read for pleasure.
Photo and story by Anna-Karien Otto
Source:
Please help us to raise funds so that we can give all our students a chance to access online teaching and learning. Covid-19 has disrupted our students' education. Don't let the digital divide put their future at risk. Visit www.ru.ac.za/rucoronavirusgateway to donate