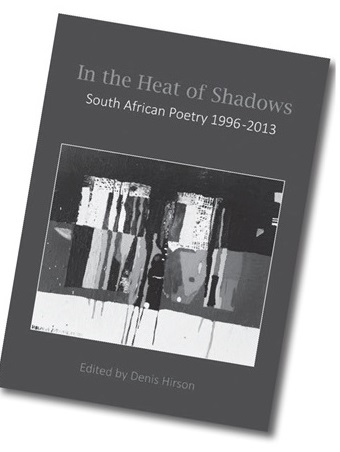 In the Heat of Shadows brings together a beautiful crafted collection of poems on various themes of freedom, love, despair and longing. Poets selected for this collection have a conception of what poetry is and the larger role it should take in a society.
Voices of these poets are a form of a prayer, a shout, love making sounds, and defiance against injustice that has taken over our streets.
"In the name of Amandla/ tell what has changed in this village/ there's no food in the kitchen/ bare children with chapped lips can't go to school", Vonani Bila's words raise the anguish that cuts across most rural areas in the name of freedom.
Some of these poems speak about the things that are happening in our lives and things that we are afraid to talk about, this is our privilege. Kelwyn Sole's poem, This is not autumn, is a forest of reality: "In Hillbrow the streets are shattered glass/ In Pretoria they mint reflecting coins spy any threat approaching/ In Orange Farm and Khayelitsha, a furtive noise of bailing buckets/ In Richmond there is no one who dare recognise a neighbour".
In some of the poems you will find lines or stanzas that you will take with you to bed and shape your dreams and rush it into a morning. "I'm sitting at table now/ with my forefathers' enemies/ I nod and say hello/ but/ deep inside me somewhere/ I know where I stand." Ronelda Kamfer is showing us that what you see is what you write; the source is in front of us. In the Heat of Shadows will block your ears from the noise of guns at night and save you from the rage of unhappy communities that are burning tyres on our streets protesting. "People say I'm lucky/ not knowing the furnace of turmoil and turbulence/ for every drop of water", writes David wa Maahlamela of a journey trying to deal with the pains of growing up searching.
If you regard poetry as water of consciousness you have to get a copy of this book that carries most of South African prominent poets who have kept this genre living. Among the voices selected to repair our state of sanity, I would choose Mxolisi Nyezwa, Ari Sitas and Robert Berold. In the Heat of Shadows deserves a place on the podium of South African literature. Denis Hirson launches In the Heat of Shadows in Seminar Room In the Heat of Shadows: South African Poetry 1996 - 2013 edited by Denis Hirson.
Review by Ayanda Billie from Uitenhage, writer, poet and student on the MA in Creative Writing programme at Rhodes University.
Please help us to raise funds so that we can give all our students a chance to access online teaching and learning. Covid-19 has disrupted our students' education. Don't let the digital divide put their future at risk. Visit www.ru.ac.za/rucoronavirusgateway to donate