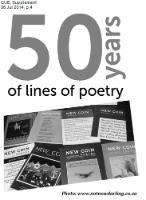 The continued publication of the poetry journal, New Coin, for 50 years this year is a remarkable feat for the literary genre in South Africa, one of the former editors has said.
In a telephone interview, Alan Finlay, who was scheduled to arrive last night for this morning's launch of the journal's 50th anniversary exhibition, said he has always seen New Coin "as a process". Finlay edited the journal between 2003 and 2007.
"As an editor then, for me, the interesting thing was going back to the archives and trying to understand New Coin as a process," he said.
"I looked at the correspondence between editors and between editors and poets. I was interested in uncovering this texture."
The journal was founded in 1965 by the poet Guy Butler who was the head of the English department at Rhodes University. He co-edited the journal with Ruth Harnett, a fellow English lecturer and poet, between 1965 and 1976.
Until 1973, the journal was published by the South African Poetry Society before Rhodes University's Institute for the Study of English in Africa took over.
In the late 1970s to 1988, the journal was edited by six people who include Chris Mann, Rob Nixon, Gareth Cornwell (1982 -1986), Andre de Villiers, Robert Greig and David Bunyan (1987 - 1988).
Robert Berold became the longest serving editor between 1989 and 1999 injecting a fresh impetus to the journal, actively travelling around the country on the lookout for new poets.
An interview with a poet was introduced to each issue from 1992 and the format of the journal changed to a bound one with a colour cover.
Over the 50 years, the journal has launched careers of important poets in South Africa including Greig, Wally Serote, Oswald Mtshali, Lesego Rampolokeng, Joan Metelerkamp and Angifi Dladla.
Finlay said: "The journal has always occupied an interesting space because it is associated with a university. Journals outside institutional support have found it hard to keep publishing as publishers run out of money or the editors get tired. Although we now have internet publishing creating more competition that New Coin has been going for 50 years is quite remarkable in a country like South Africa that does not support poetry so much."
50 Years of New Coin opens in the Eden Grove
Preview by Khanyile Mlotshwa, masters candidate in the School of Journalism and Media Studies at Rhodes University
Photo source: Notnowdarling website
Source: Cue newspaper
Please help us to raise funds so that we can give all our students a chance to access online teaching and learning. Covid-19 has disrupted our students' education. Don't let the digital divide put their future at risk. Visit www.ru.ac.za/rucoronavirusgateway to donate