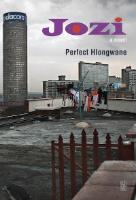 My book club read Penumbra by Songeziwe Mahlangu a few months ago. We were surprised to find that the book had gone as far as getting shortlisted for the Sunday Times Fiction Prize 2014, which has since been renamed after Barry Ronge, a mysterious move which shocked some quarters of the South African literary landscape. We even concluded that maybe Mahlangu's publishers tried sabotaging him because even at the bookshops the book was hidden far away. Later we found out about Perfect Hlongwane's Jozi. And we thought it would be quite interesting to read both books and compare the stories after noticing there were some similarities.
In Penumbra (212 Pages): "Mangaliso Zolo is a hapless recent graduate, still living in the southern suburbs of Cape Town near the university. Manga has an office job at a large insurance company, but he is anonymous and overlooked in this vast bureaucracy. Penumbra charts Manga's daily struggles with mental illness and the twin pull, from his many friends and acquaintances, between a reckless drug-fuelled lifestyle and charismatic Christianity. The novel brings an alternative experience of Cape Town to life, one far removed from both the gloss of tourism brochures and the familiar poverty of the Cape Flats. Mahlangu's voice is unlike anything South African literature has yet seen and this debut novel dissects young, urban slackers in South Africa with startling precision".
In Jozi: A Novel (94 Pages) : "This novel collection by first-time author Perfect Hlongwane offers a biting portrait of inner-city Jo'burg, a place where dreams come to die. Written as a series of interlinked stories centring around an eclectic ensemble of characters, Jozi conjures for readers a city both familiar and surprising. With its vein of painful self-examination, evocative sense of place and unflinching exploration of the rawer aspects of Jo'burg living, it brings to mind the impact of cult literary figures like Dambudzo Marechere and Phaswane Mpe".
Well these books are definitely new and emerging South African voices. They are unique and they are real. And they are really contemporary. Hlongwane says he wrote Jozi for both the youth and adults. I feel like the youth will relate more to the stories in his novel collection. What I love about these books is that even though they have similarities in terms of the themes, the books are also set in cities apart. While Jozi is self-explanatory, Penumbra is based in Cape Town. The writing styles are also different and ever so engaging that even people who hardly read books will find it easy to read and finish the two books.
One of the things which caught my eye in Jozi was foreign men and their treatment of local women. I have observed this treatment particularly from Nigerian men. I've also observed how they interact with Nigerian women. Of course this is a generalization and it is only based on my experience. I've seen them disrespect the police in South Africa. However, that relationship is very toxic and filled with xenophobia. South Africans are very xenophobic and this is public knowledge. The South African police are also very corrupt. This is public knowledge too. The system is full of holes and clutter. South Africans themselves don't particularly have a good working relationship with their very own police. It would be unfair on anyone's part to expect the relationship between the local police and foreign nationals to be smooth and without flaws.
Jozi is a 94 Page book but it discusses a whole range of topics which one would not easily find on a 500 page novel. Tribalism comes out in a rather amusing but not so amusing way when one of the characters in the book comments about Limpopo being somewhere outside South African borders during one of their drinking sessions. This comment isn't to be taken lightly even in our day to day conversations and interactions. Dark skin is associated with less; ugly; foreign; outsider; and all the negativity in the world. We all know where this comes from. I, for one, have been asked why I am so dark as though I come from Limpopo when I'm actually Xhosa. While someone else (a South African infact) would get so offended for being associated with Limpopo when these comments come up, I don't. Instead, that someone else offends me. I also take great offence in that comment because I personally do not have any problems with my skin color and tone. I fail to understand how it affects the next person. But my head also spins and stomach turns with great pain because its times like these that I learn that our minds are not yet liberated. We need to decolonize the mind. We need to set our minds free.
One of the most peculiar similarities which the two novels share is mental illness. Everyone is currently discussing this topic everywhere we go. I suppose someone like Robin William had to take their life to revive the public debate as well as private conversations on the subject again. Both lead characters are struggling writers, one in Cape Town, and the other one in Johannesburg. Their spirits are broken and they are leading shattered lives. This reminds me of a conversation on twitter about Ghosts in Johannesburg a few days ago. It was about unhappy and wandering spirits. My immediate response was that I can understand and appreciate unhappy ghosts in that part of the world though. How many souls have perished there? How many dream chasing games have been lost? How many shattered and lost lives are still looking for guidance to their homes and places of rest? And one of the characters in Jozi dies this similar death. He might just be one of the said unhappy ghosts in certain parts of Johannesburg.
Another similarity in the two novels is characters mushrooming out of nowhere and later in the story; and then vanishing again into thin air. Without warning and without a trace. Like ghosts. Of course this annoyed and bored me to death. None of the characters in the books are stronger or extraordinary than the other. So for me, it does not make sense to bump into random characters when I'm a few pages away from the ending of a book. Not when the lead characters themselves are plain, flat and really just absolutely ordinary.
The endings are sudden and abrupt. And maybe that's the only similarity to note there. Maybe not. Both books leave you with a frown and longing for more. But that longing also leaves you with a smiling and jumping heart because hope tells you that these authors have unfinished business with their readers. It feels like they have more to tell and I absolutely have no doubt that some of the characters in these debut novels will certainly come up with different names in the future. The character's stories are familiar. We might see ourselves in the stories. We might see our friends and families in the stories, or we might just see the people we have met.
Penumbra is published by NB Publishers and dare I say they have done a poor job of giving this young man's work some decent publicity.
Jozi is published by the UKZN Press and they are doing some wonderful work there. I remember they also published Mtutuzeli Nyoka's magnificent "I Speak To The Silent".
Article by: Siyamthanda Skota.
Article Source: Just Curious
Please help us to raise funds so that we can give all our students a chance to access online teaching and learning. Covid-19 has disrupted our students' education. Don't let the digital divide put their future at risk. Visit www.ru.ac.za/rucoronavirusgateway to donate