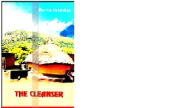 MARTIN Koboekae, producer of SABC2's comedy Ga Re Dumele, has launched his second novel, The Cleanser. This follows his inaugural work, Taung Wells.
Taung Wells is a moral and historical novel about a group of Botswana whose migration to a village on the border of modern-day Botswana is complicated by conflict with the customs and politics of a local tribe.
On the other hand, The Cleanser tells the topsyturvy and bittersweet romantic story of a unique man and woman in an African community that practices a sordid form of cleansing for recently-widowed women - they have to sleep with a special, communitydesignated cleanser. This in the macabre belief that the sexual cleansing will rid the affected women of evil spirits.
While the books are 10 years apart, in between Koboekae has worked on several other projects - besides the television comedy - which have included radio dramas and stage plays. Most of these have been featured on the main stages of the National Arts Festival in Grahamstown, Eastern Cape.
Koboekae has also staged the annual youth-driven Stop Crime Drama Festival under a youth development organisation, Dramatists Against Crime, with fellow thespian Julian SelekeMokoto.
The launch of The Cleanser took place at Utlwanang in Christiana, North West, this week. Significantly, three homegrown authors - Koboekae, Sabata-Mpho Mokae and Maruping Phepheng - graced the occasion.
All three authors were nurtured by the tightly-knit community of Christiana of just under 20 000 people.
Phepheng and Mokae are novelists and both are studying towards their Master of Arts degrees in creative writing at Rhodes University.
Victor Mecoamere wrote the foreword and synopsis to The Cleanser PARTNERS: Playwrights Julian Seleke-Mokoto and Martin Koboekae PHOTO: WATSON MCOTELI. NOVELIST: Sabata-Mpho Moka
Source: The Sowetan.
Please help us to raise funds so that we can give all our students a chance to access online teaching and learning. Covid-19 has disrupted our students' education. Don't let the digital divide put their future at risk. Visit www.ru.ac.za/rucoronavirusgateway to donate