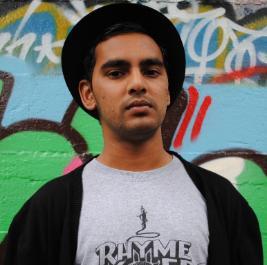 South African writer, publisher and critic, Dashen Naicker, has been appointed editor of poetry magazine New Coin from 2017.
Naicker, founder and editor of the South African poetry e-journal The Park Bench, is a poet who has read and performed at festivals in South Africa, Sweden, and France. His own work has been published in international and local magazines, including New Coin, where he was one of the Dalro prizewinners in 2012. He is also a performance poet and three-time winner of the Poetry Africa SlamJam.
Dashen Naicker writes: "Since 2014, New Coin has achieved considerable reach and range under the committed stewardship of Gary Cummiskey. With his guidance the journal has made varied voices visible, even in the shifting sands of South Africa in the 21st century. My aim is to continue, and construct from, this investment in South African poetry.
"Beyond this, I would like to bring into the journal extended interview pieces that engage with the craft and concerns of South African poets. This will take the form of a series of conversations in which young South African poets interview established writers who have influenced or inspired them in some way, highlighting the sense of community and history that is a part of South African poetry.
"I hope to achieve these aims by drawing on my skills and experiences as a poet, academic, and editor, in consultation and conversation with poets and poetry lovers of South Africa. I want to ensure that New Coin journeys into and through spaces aware and appreciative of the multiple modes and varying voices that characterise life and poetry in this country."
New Coin was founded in 1965 by Guy Butler and Ruth Harnett and is published twice a year by the Institute for the Study of English in Africa (ISEA) at Rhodes University. Naicker will work with an editorial board of poets and former editors.
Subscribe now to get both the June and December 2016 issues of New Coin for R200.
For subscriptions and information, email isea@ru.ac.za or call 046 603 8565.
Source: New Coin