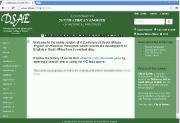 The 2014 Wordfest kicked off yesterday (5 July 2014) with the launch of the new online version of the Dictionary of South African English. The new site will be accessible for free until the end of the year and is the first dedicated catalogue of the local dialect on the internet.
The launch coincides with the 45th birthday of the Dictionary Unit for South African English (DSAE) and the 50th birthday of its parent body, the Institute of the Study of English in Africa (ISEA). Both DSAE and ISEA are hosted at Rhodes University.
As it stands, the database is an uncorrected version of the dictionary that was first published in 1996 and that has been out of print since 2004. Unfortunately, it has not been updated since it was first compiled.
In 1996, when the dictionary was first printed, it was only 8 megabytes worth of compressed files in size but was still too large a file to be sent electronically from DSAE across campus to Computer Services. Instead, the researchers saved the files to a computer and carried it the whole way over.
The file transfer was concluded at 4.30pm despite starting at beginning of the work day - and the file took a whole 24 hours to be downloaded by the printers in the United States. At this point, it was discovered that we had been left behind and the team had to run back to the office to fetch it.
The new website was demonstrated by Jill Wolvaardt, executive director of DSAE, who was quick to emphasise that the online dictionary was only a pilot version and would be constantly improved.
"It's a newborn and, like all newborns, it's going to need a little bit of work to train it to walk. But it has a lot of interesting characteristics already. I think it can almost smile and say 'mama' and 'papa' now," she said.
For now, Wolvaardt and the other two members of her team are looking for feedback from users and so have left the site as free-to-use for now. They are hoping to begin a subscription service from January 2015 but have not yet decided on a pricing structure.
The website includes features such as a table of which languages words were derived from, and lists of recorded usages of each one.
It will also include a Word of the Week function, which began this week with City of Saints, a nickname given to Grahamstown because of its dozens of churches.
Go to the DSAE stand in the Eden Grove concourse for free demonstrations daily from 11.30am to 2.30pm. Or stay at home and access the new website at dsae.co.za
By Stuart Thembisile Lewis, student in the School of Journalism and Media Studies at Rhodes University
Source: Cue newspaper
Please help us to raise funds so that we can give all our students a chance to access online teaching and learning. Covid-19 has disrupted our students' education. Don't let the digital divide put their future at risk. Visit www.ru.ac.za/rucoronavirusgateway to donate