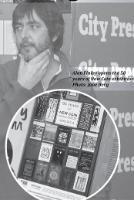 New Coin's 50th anniversary exhibition, which officially launched yesterday (6 July 2014), faces a big future. After Wordfest, the show will hit the road and is likely to grow as more of the journal's former editors avail their personal archives to the show's curators.
A long-standing editor of the journal, Robert Berold, said the exhibition is basically the story of the New Coin editors and what they discussed among themselves and with the poets.
"From here, it is going to the Rhodes University library," he said. "After that it will go anywhere where there are people interested in seeing it."
The exhibition emerged from Alan Finlay's appeal to some of the journal's 20 editors to avail their personal archives to the exhibition organisers.
"There are mainly two recognisable periods of the journal, that is the Guy Butler/Ruth Harnett era from 1965 to 1976 and the Robert Berold era between 1989 and 1999," said Finlay, who was editor of the journal from 2003 to 2007. "There are periods in between with a bunch of editors. In terms of archival material, the Butler/Harnett period is very rich and these other periods have little material."
During yesterday's launch, Berold reminisced on his decade-long editorship of New Coin. "It was a good time because apartheid was coming to an end," he said. "I was interested in innovative poetry, experimental poetry that took risks. The country was shifting and the poetry was changing. We suddenly found that people were reading poetry and the poets were reading each other's work — both black and white. This is because we had some good poetry.
"Worldwide publishing has changed. There is no longer emphasis on book and magazine publishing and so much publishing has gone online. This is good for poetry because it is a short form of art that can be downloaded even on the cellular phone making poetry more accessible. On the other hand, the readership of challenging poetry has declined. People just want to be entertained. However, people who want to be challenged are always there and that will save poetry. Good poetry gets through to people. In that sense, I feel positive. Journals come and go, and I wouldn't mind if New Coin poetry disappears as long as poetry does not disappear."
See the 50 years of New Coin exhibition daily at the Eden Grove concourse.
By Khanyile Mlotshwa, masters student in the School of Journalism and Media Studies at Rhodes University
Photo: Alan Finlay opens the 50 years of New Coin exhibition.
Photo by: Jane Berg
Source: Cue newspaper
Please help us to raise funds so that we can give all our students a chance to access online teaching and learning. Covid-19 has disrupted our students' education. Don't let the digital divide put their future at risk. Visit www.ru.ac.za/rucoronavirusgateway to donate